Complicated 'Star Trek' Rights Could Push J.J. Abrams Into A Multimedia 'Star Wars' Universe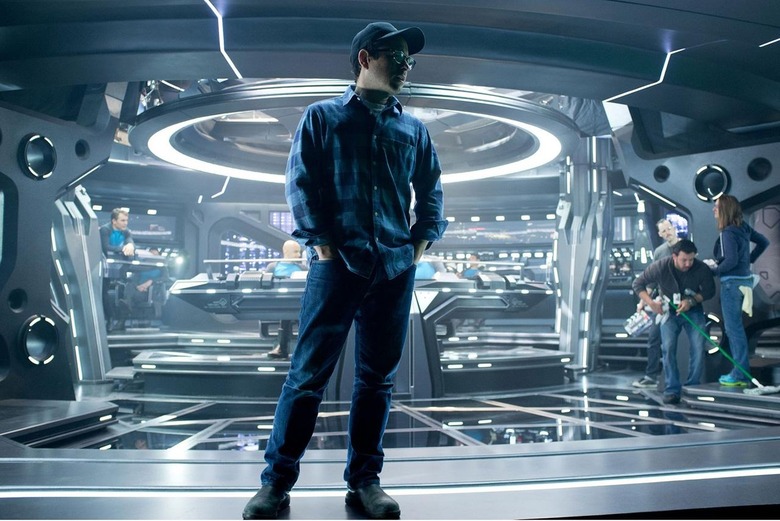 J.J. Abrams has big plans for Star Wars. Very big plans, reaching beyond a new trilogy of films focusing on the multi-billion-dollar franchise. We're talking TV shows, spin-offs, online components, theme park rides, you name it. It's a plan Abrams had several years ago for another property, Star Trek. He wasn't able to make it work with the Enterprise crew, because the rights to Star Trek are split between Paramount, which controls the movies, and CBS, which controls the TV shows and product licensing.The Wrap has a fascinating article detailing these issues. The core idea is that CBS' and Paramount's differing viewpoints on the franchise might have frustrated Abrams to a point where, when Star Wars became available, he decided to shift his allegiance and master plan over to the dark side at Disney.
Basically it comes down to this: since CBS owns the rights to the all the Star Trek TV shows, it owns the rights to the characters. In order to make a Star Trek movie, Paramount must license the characters from CBS. (CBS and Paramount were once both owned by Viacom, but CBS broke off in 2006.) At the same time, CBS can do whatever it wants with the characters, independent of the films. This is thought by some to cause confusion in the marketplace. (Spock bobbleheads with "Star Trek" on them that have nothing to do with the movie, etc.)
On the 2009 Star Trek film, the two corporations feuded big time, creating a lack of licensing and merchandising. They worked together better for Star Trek Into Darkness, but the multimedia, multiplatform saturation of Star Trek is nowhere near as big as Abrams and his Bad Robot team had envisioned.
"J.J. just threw up his hands," a source told The Wrap. "The message was, 'Why set up all this when we'll just be competing against ourselves?' The studio wanted to please Bad Robot, but it was allowing CBS to say 'yay' or 'nay' when it came to what was happening with the 'Star Trek' products."
And then Disney bought Lucasfilm outright, including all rights to everything relating to Star Wars. It's a franchise Abrams has far more personal investment in than Trek. And The Wrap reports a deal was made that "is believed to include creative and profit participation in 'Star Wars' inspired merchandise and spin-offs." He'll have "more control in shaping the legacy of the Skywalker clan than he would have had with developing side projects for the 'Star Trek' crew."
The Wrap article finishes up like this:
As for Disney's grand "Star Wars" plan, it's sounding an awful lot like the one Abrams once envisioned for "Star Trek." There will be television properties, theme park rides and spin-off films all centered around the new trilogy that Abrams will oversee. It's a page borrowed from Disney's exploitation of the Marvel comic books and if it works out, it should make Abrams very rich indeed.
One interesting side note in The Wrap piece is how it sounds like Abrams is totally done with Trek, when he's continually said he'll at least be back to produce a third film. Maybe, though, he'll be too busy crafting a galaxy far, far away to be particularly hands on.
Head over to The Wrap to read many more details on this situation. But for now, what are your thoughts?