'Dredd' Sequel "Not Off The Agenda," According To Karl Urban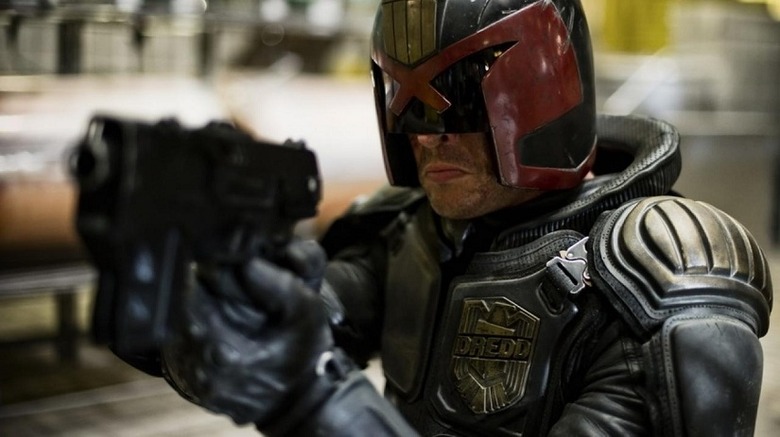 If Dredd's tragically weak box office performance didn't squash all hopes of a sequel, Adi Shankar's recent comments should have. The producer bluntly stated that the sci-fi pic would "probably not" get a follow up because it "totally bombed." Considering that the film made grossed just $35 million worldwide on a $50 million budget, it was tough to argue with his reasoning.
But now that Dredd has found a little more success on home video, star Karl Urban seems to be feeling much more optimistic. According to him, a Dredd sequel is "not off the agenda" — but it'll only happen if the fans fight for it. Hit the jump to read his comments.
Interestingly enough, I did have breakfast with [writer/producer] Alex Garland this morning. It's not off the agenda. Clearly everyone has woken up to the fact that an audience has found this movie and loves it. It's entirely possible, and if people want to see another installment then they should be vocal about that, because, it can happen. The power of fandom can resurrect projects. In fact, that's what happened with Star Trek. They weren't going to do a third season until fans did a letter writing campaign and they continued that series.
Dredd has indeed been selling well on home video, topping the DVD / Blu-ray and digital download charts when it hit in January. It also doesn't hurt that the film's received strong reviews. There's still a ways to go before Lionsgate will greenlight a sequel, of course, but that outcome no longer seem as impossible as it once did.
Shankar has previously nixed the idea of Kickstarter funding, so for now it seems like the best thing fans can do is to keep spreading the word. And if that doesn't work, at least we can take comfort in the fact that Judge Dredd will be resurfacing in other forms in the near future. Shankar has already revealed plans for a Dredd short, and 2000AD has a comic book sequel due out this fall.