LOL: J.J. Abrams Gets 'Star Wars' Suggestions From Fans On 'Jimmy Kimmel Live'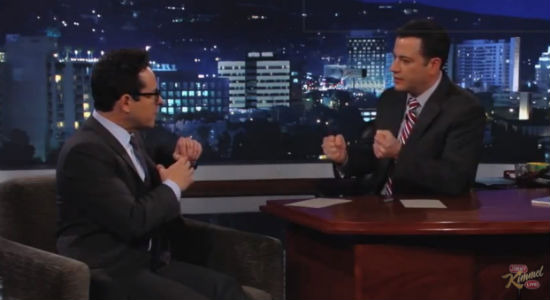 Here's a video that really works best if it's not spoiled. Basically, J.J. Abrams appeared on Jimmy Kimmel Live to promote Star Trek Into Darkness and, much as with the appearance from Harrison Ford, things turn to Star Wars.
Let's just say this. If you like J.J. Abrams, Star Wars or Star Trek, or are looking forward to Star Wars Episode VII or Star Trek Into Darkness, you'll find something surprising to laugh about here.
Thanks to Jimmy Kimmel for the great video.
My biggest question watching this is if Abrams spoke to either of those stars after the fact. The former has been campaigning to return for the film and the latter has been vocal about his disapproval of the new Trek movies. Both conversations would have been very interesting.