Cool Stuff: 'Transformers' And 'Voltron' On Display In Wizard World Exclusives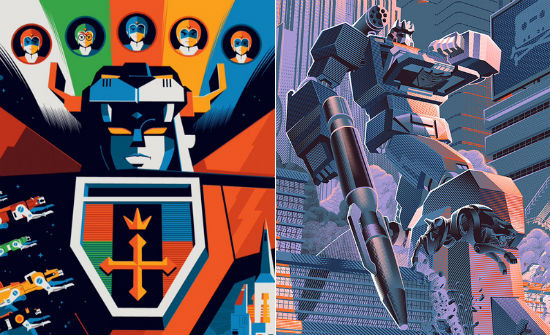 There's just something exciting about seeing a giant robot kick ass. Growing up in the '80s, cartoons like Transformers and Voltron were fan favorites because of that very idea. Long before that, Godzilla and the Toho crew fought plenty of giant mechs, and the formula has been exploited in anime, live action television and some of Hollywood's biggest blockbusters. In projects like Evangelion, Power Rangers, and Pacific Rim, big robots kicking ass is a long-standing tradition.
The Acid Free Gallery in Philadelphia, PA is putting that fact to good use at the upcoming Wizard World ComiCon Philadelphia taking place May 30th through June 2nd. They've employed four of the top posters artists working today: Laurent Durieux, Tom Whalen, Kevin Tong and Jesse Philips to make exclusive, robot themed, posters for the event. There's Voltron, Starscream, Soundwave and the Dinobots. Check them out below.
Thanks to the Acid Free Gallery for these great images. Follow them on Twitter and Facebook for more information on their release.
Here are the specs on each poster:
Jesse Philips - Starscream
18 x 24
Limited to 100
$50.00
Tom Whalen - Voltron
18 x 24
Limited to 300
$50.00
Kevin Tong - Dinobots
36 x 24
Limited to 175
$65.00
Laurent Durieux - Soundwave
24 x 36
Limited to 275
$65.00
These will all be available at Wizard World Philly. Get tickets here.