'About Time' Trailers: Time Travel Is Helpful For Finding Love, Actually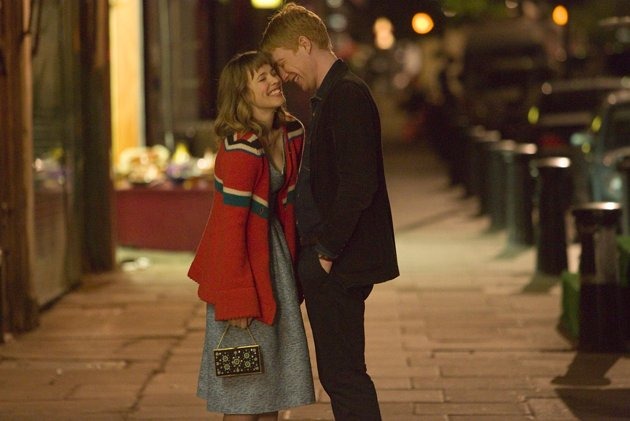 The time-travel love story is nearly a constant in film, and it can be played a few ways: there are sweet, earnest, slightly creepy, and super-creepy, just for starters. About Time, in which the rather charming Domhnall Gleeson learns of his ability to travel through time, stars off seeming like it might be the super-creepy kind, as Gleeson's character uses his ability to score.
But then, thanks to his presence and a gentle turn from Rachel McAdams, it seems to swerve into much sweeter, funny territory. That might be due to the fact that Richard Curtis (Love, Actually) wrote and directed. The additional cast (Bill Nighy, Tom Hollander and Margot Robbie) doesn't hurt. Sure, there's a bit of heavy message delivery from Nighy, but that might just be the trailer.
We've actually got two trailers, one from the UK and one for the US. Check out both below.
Here's the domestic trailer, from Yahoo.
And this is the international version, from MSN UK.
About Time opens in the US in November and in the UK on September 6. Here's a long synopsis:
At the age of 21, Tim Lake (Gleeson) discovers he can travel in time...
The night after another unsatisfactory New Year party, Tim's father (Nighy) tells his son that the men in his family have always had the ability to travel through time. Tim can't change history, but he can change what happens and has happened in his own life—so he decides to make his world a better place...by getting a girlfriend. Sadly, that turns out not to be as easy as you might think.
Moving from the Cornwall coast to London to train as a lawyer, Tim finally meets the beautiful but insecure Mary (McAdams). They fall in love, then an unfortunate time-travel incident means he's never met her at all. So they meet for the first time again—and again—but finally, after a lot of cunning time-traveling, he wins her heart.
Tim then uses his power to create the perfect romantic proposal, to save his wedding from the worst best-man speeches, to save his best friend from professional disaster and to get his pregnant wife to the hospital in time for the birth of their daughter, despite a nasty traffic jam outside Abbey Road.
But as his unusual life progresses, Tim finds out that his unique gift can't save him from the sorrows and ups and downs that affect all families, everywhere. There are great limits to what time travel can achieve, and it can be dangerous too. "About Time" is a comedy about love and time travel, which discovers that, in the end, making the most of life may not need time travel at all.