'The Congress' Trailer: Is This Live-Action/Animated Hybrid The Wildest Sci-Fi Of 2013?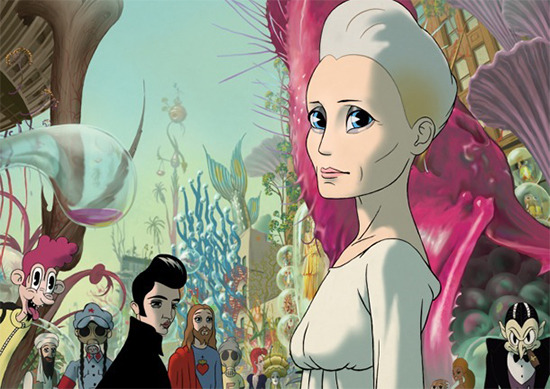 We've been waiting for The Congress, the new film from Waltz With Bashir director Ari Folman, for what feels like a very long time. (In reality, only since 2009.) The film is loosely based upon a story by science fiction grandmaster Stanislaw Lem, but has been adapted to very specifically suit cinema.
The live-action/animated hybrid features Robin Wright as an actress — actually as Robin Wright — whose career is being pronounced dead. And so she sells her likeness to a firm that uses her as a sample source. Wright playing a version of herself is already fairly strange, but then there are the ways that filmmakers use her likeness, which are really out there.
We've seen glimpses of the film's animation before, but what we see here is far beyond what we've had a look at in the past. The animation is beautiful, but it's the combination of everything that makes this look like one of the most visually commanding movies of the year. Will the script be as compelling? Get a taste in the trailer below.
There's an interesting irony here, as in real life Wright's career is in a great place right now, thanks to her commanding performance in the show House of Cards. Her career is anything but over; if anything, Wright is helping redefine what an actress can do as she gets out of what Hollywood would consider a woman's prime years. It's great to watch.
The Congress premieres soon at Cannes. Kodi Smit-McPhee, Danny Huston, Harvey Keitel and Paul Giamatti also have roles.
A loose adaptation of Stanislaw Lem's "The Futurological Congress," a 1971 black humour science fiction detailing the exploits of the hero of a number of his books, Ijon Tichy, as he visits the Eighth World Futurological Congress at the Costa Rica Hilton. The book is Lem's take on the common sci-fi trope of an apparently Utopian future that turns out to be an illusion.