'This Is The End' Stars Promise Gross Out Acts In Exchange For Facebook Likes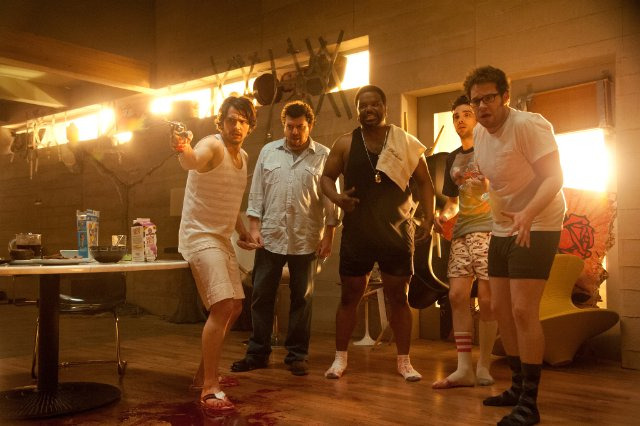 Well here's a new twist on social marketing that hasn't been used yet, and one that just might work.
We all know that This Is The End is chock full of huge comedy (and movie) stars: James Franco, Jonah Hill, Seth Rogen, Jay Baruchel, Danny McBride and Craig Robinson just to name a few. Its blend of R-rated humor and apocalyptic action and self-reflexivity make it a film aimed squarely at a very specific audience. The kind of people who spend all of their time on social media. And to help get the film's Facebook likes up, Franco, Rogen, Baruchel and McBride have promised to do increasingly gross things to each other as more people Like the movie.
Watch a video tease, read the first three tiers and get a link to the Facebook below.
Here's the video teasing this crazy idea.
And here's the Facebook page. "Like" away.
So far they've promised that at 500,000 likes, McBride will wax Rogen's back. At 650,000 likes, Baruchel and McBride will share a strand of spaghetti like Lady and the Tramp, and at 800,000 likes Rogen will paint Franco naked. Who knows where it'll go from there.
This Is The End opens on June 12. Did this work on you?