First Look: The Mo-Cap 'Teenage Mutant Ninja Turtles' And Foot Soldiers [Updated]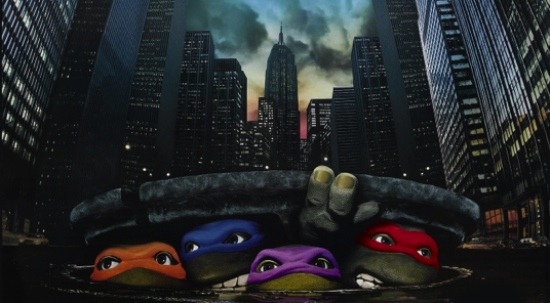 Heroes in mo-cap, CG power! After a few days of Megan Fox on the set of Teenage Mutant Ninja Turtles, the stars of the film have finally surfaced from the sewer. Actors Noel Fisher (Michelangelo) Jeremy Howard (Donatello) and Pete Ploszek (Leonardo) have been spotted on the set of the Jonathan Liebesman film in full motion-capture garb.
Of course, we've all seen what motion capture suits look like before, but there are a few subtle differences here. First, the motion capture is being done outside and not on a closed set; that's a technique that was revolutionized on Rise of the Planet of the Apes. Second, each actor has a massive mo-cap shell on their back. And third, they're all sporting arm bands to corrospond to their character's color.
But wait there's more! The photos also reveal our first look at what is seems to be Shredder's Foot Soldiers, and even a major plot point.
Update: Deadline adds that William Fichtner has joined the cast, playing an unidentified lead role "with iconic stature in the Turtles' mythology."
Thanks to Superhero Hype for the images. You can see the Foot Soldiers in the back of each shot.
But where's Alan Ritchson, who plays Raphael? The photos have a strong suggestion at that answer but it's a spoiler. Proceed with caution.
In the images below it's pretty obvious that Mike, Leo and Don have been captured by the Foot Soldiers. See the metal bindings at their wrists and ankles? I'd imagine these three Turtles get captured and it's up to Raph, along with probably April, to break them out. Raphael out on his own is like pretty familiar story device as far as TMNT tales go.
What do you think of the look?
For more photos of the Turtles and Foot Soldiers, check out these two links on Comic Book Movie.