'The Muppets... Again!' May Open Seconds After 'The Muppets' Ended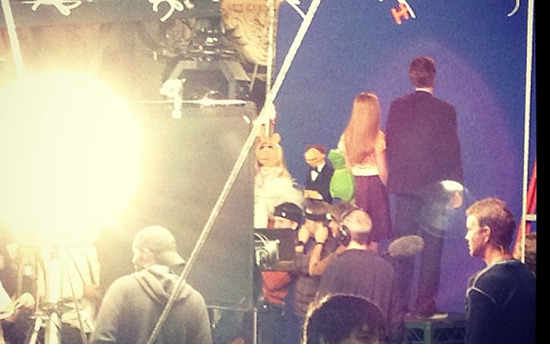 The Muppets brought Jim Henson's family-friendly crew of clever puppet characters to new audiences in 2011, and Disney is now in production on a sequel, The Muppets... Again! We know that the film features a road trip that takes the Muppets to London, and that actors Tina Fey, Ty Burrell, and Ricky Gervais play major roles.
We also know that Jason Segel and Amy Adams, the human stars of the 2011 film, won't appear in this movie.
So what's the story with the photo above, which is a crop of a picture taken last night during the shoot for the sequel? The picture evidently shows stand-ins for Adams and Segel, and other photos from last night's shoot strongly suggest that Disney has recreated the end of The Muppets. While we don't have any info about whether Adams or Segel might actually return for a cameo here, we do understand that the sequel starts just moments after the end of The Muppets.
The shoot last night, in front of the El Capitan on Hollywood Boulevard, used the same decorations that the marquee had for the finale of The Muppets. Then there are the same outfits on the Muppet characters, and the Adams and Segel stand-ins. One conclusion might be that the sequel features flashbacks to the first film, and that is certainly possible. But simple flashbacks could also be created with footage from The Muppets.
Other info we have says that the shoot last night wasn't for a flashback, and that The Muppets... Again! picks up seconds after the end of the last film, and that what happens directly after the finale of the 2011 movie sets this sequel's road trip in motion. Here are a couple more photos from Instagram and Twitter users jonklaft, asammyg, and Ann Pantaleon, showing the setup on Hollywood Blvd:
@olv Muppets 2 pic.twitter.com/5UZZNbica6

— just a girl (@angelbdreamer) May 9, 2013
We'll have to wait to see whether Adams and Segel do make a small appearance in the new film, or if the stand-ins are the only way their characters end up in new footage.
Here's the language "Kermit" used to describe the new film:
The idea of this film is that our gang is on this global tour, and we're selling out these grand theaters all over Europe—in Berlin, Madrid, London—but we sort of get into a little bit of trouble when we run across my doppleganger. He's the world's number one criminal, Constantine, and he happens to look an awful lot like me. I won't tell you any more than that, but let's just say mayhem ensues.
Directed by James Bobin, The Muppets... Again opens March 21, 2014.