'The Act Of Killing' Trailer: Confronting True Horror Through Cinema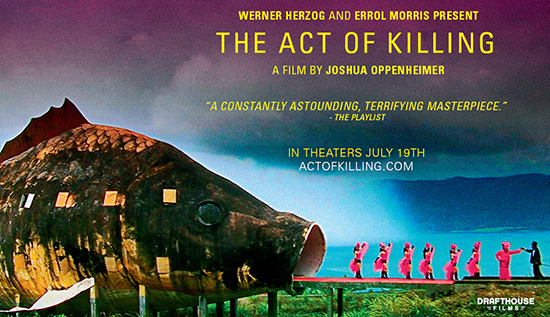 I know no one who has emerged unscathed from The Act of Killing. The film might be one of the strangest ever made, as it forces men to confront their actions by recreating them in movie form. But these aren't just any men — they're guys like Anwar Congo who, as death squad leaders during the "Thirtieth of September Movement," staged a coup d'etat in Indonesia in 1965, and then committed genocide through an anti-Communist purge.
Estimates of the death toll vary widely, from 80,000 to one million. By any standard, these are heinous crimes. "War crimes are declared by the winners," Anwar Congo says, before happily proclaiming "I'm the winner!"
Today Anwar and other death squad leaders have not been tried as criminals; rather, they hold positions of some social standing. The Act of Killing features their full cooperation. It invites the death squad leaders to recreate their actions as genre movies — westerns, musicals, and so on — and in so doing bring their past back to life. The trailer below shows you some of the effect, and even in this abbreviated form it is deeply chilling.
The Act of Killing hits limited theaters on July 19. Apple has the trailer.
In this chilling and inventive documentary, executive produced by Errol Morris (The Fog Of War) and Werner Herzog (Grizzly Man), the filmmakers examine a country where death squad leaders are celebrated as heroes, challenging them to reenact their real-life mass killings in the style of the American movies they love. The hallucinatory result is a cinematic fever dream, an unsettling journey deep into the imaginations of mass murderers and the shockingly banal regime of corruption and impunity they inhabit. Shaking audiences at the 2012 Toronto and Telluride Film Festivals, The Act of Killing is an unprecedented film and, according to the Los Angeles Times, "could well change how you view the documentary form."