'Ender's Game' Teaser Trailer: A Landmark Sci-Fi Novel Finally Comes To Theaters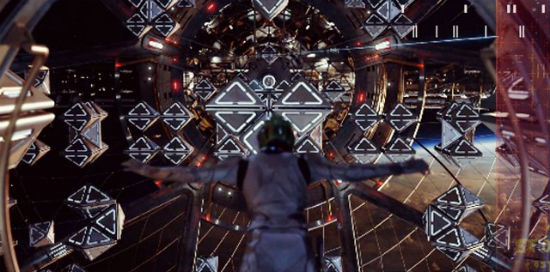 A day Ender's Game fans never thought would happen has arrived. The first teaser trailer for the film adaptation of Orson Scott Card's landmark sci-fi novel is finally here.
For years, Hollywood told fans the age of the characters and the complicated action sequences made the story unfilmable. Enter director Gavin Hood who, along with producers Alex Kurtzman, Roberto Orci and others, willed the film to the big screen. They cast Asa Butterfield (Hugo) as the title character, a young man who is recruited to go into space and train as a military leader whose destiny is to save the world. Harrison Ford plays his gruff mentor and the rest of the cast is filled out with Oscar-calibur talent like Hailee Steinfeld, Sir Ben Kingsley, Viola Davis and Abigail Breslin.
Ender's Game opens November 1 and, below you can see just how Hood's vision came together.
Thanks to Google for the trailer.
I love the epic scale of this trailer. It looks even bigger and more bombastic than I remembered reading the book for the very first time. The zero gravity battle room looks fantastic and it seems like Butterfield is really owning the role. If you've read the book, you'll know there are a few third act moments in this trailer, but that seems necessary to sell the film to fans who don't know what the book is about.
What are your thoughts?
In the near future, a hostile alien race called the Formics have attacked Earth. If not for the legendary heroics of International Fleet Commander Mazer Rackham (Ben Kingsley), all would have been lost. In preparation for the next attack, the highly esteemed Colonel Hyrum Graff (Harrison Ford) and the International Military are training only the best young minds to find the future Mazer.
Ender Wiggin (Asa Butterfield), a shy but strategically brilliant boy, is recruited to join the elite.  Arriving at Battle School, Enderquickly and easily masters increasingly difficult challenges and simulations, distinguishing himself and winning respect amongst his peers. Ender is soonordained by Graff as the military's next great hope, resulting in his promotion to Command School.  Once there, he's trained by Mazer Rackham himself to lead his fellow soldiers into an epic battle that will determine the future of Earth and save the human race.
Based on the best-selling, award winning novel, ENDER'S GAME is an epic adventure which stars Asa Butterfield, Hailee Steinfeld, Ben Kingsley,Viola Davis, with Abigail Breslin and Harrison Ford.