Now Ewan McGregor Is The Villain In 'Jane Got A Gun'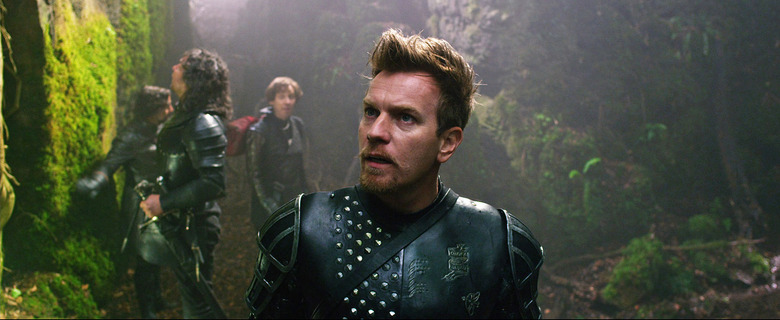 Jane Got a Gun has changed so much in the last couple months that I don't have any idea what to expect at this point. Original director Lynne Ramsay departed right on the eve of shooting (and still hasn't spoken publicly about the reason for doing so) and that began a cycle of cast changes that continues weeks later.
Last week Bradley Cooper walked away from playing the film's bad guy, reportedly because of scheduling conflicts with David O. Russell's American Hustle, and his generally busy schedule. Indeed, Russell's movie was thrown into a bit of chaos thanks to the Boston Marathon bomber manhunt, and so that's a plausible reason. But after all the upheaval on the western that is now being directed by Gavin O'Connor (Warrior) it's somewhat difficult to imagine that scheduling was the only issue.
Regardless, Ewan McGregor has now stepped in to play the leader of a gang of outlaws. Among the gang was the husband of Jane (Natalie Portman), but he leaves the gang and heads for home, leading her to recruit an old flame (Joel Edgerton) to help defend her homestead in case the outlaws come calling.
This role was once Edgerton's, but when Michael Fassbender stepped out of the "old flame" role just before Ramsay left, Edgerton moved over to the white hat role. At that point Jude Law signed on to play the outlaw, but he departed after Ramsay left, and Bradley Cooper was brought in. Given the image he's cultivated over the past few years it would have been fun to see Cooper play the outlaw, but McGregor should also have something to add — albeit a very different energy.
From a distance, it seems like O'Connor has his work cut out for him with this film. Deadline says that none of the villain role had yet shot, so despite the fact that McGregor is coming on well into production, there aren't scenes to reshoot.
And now, in addition to being the subject of curiosity and media scrutiny, Jane Got a Gun is a really weird Star Wars prequel reunion as all three major cast members had roles in the Lucas trilogy. (Portman and McGregor's are obvious; Edgerton played Owen Lars in Episodes II and III.)