Exclusive 'Now You See Me' Image Helps Kick Off Viral Campaign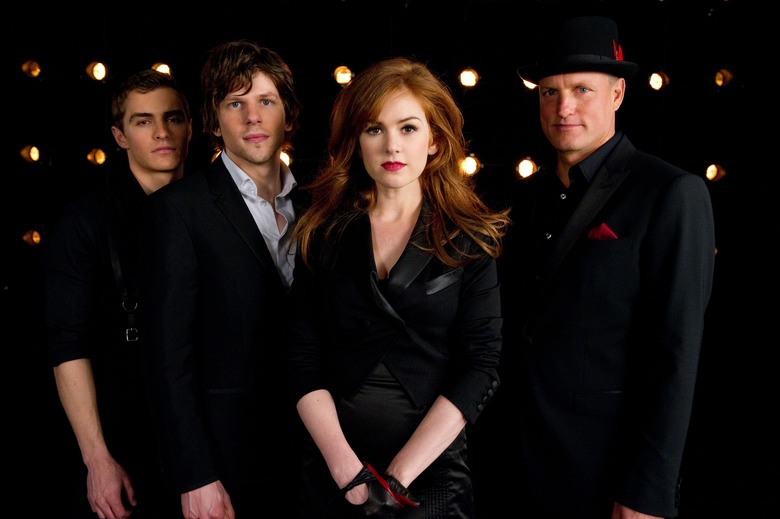 The month of May may be filled with superheroes, furious action, spaceships and hangovers, but one film aims to fool all the rest. That's the star-studded heist film Now You See Me, starring Jesse Eisenberg, Woody Harrelson, Isla Fisher, Dave Franco ,Mark Ruffalo, Mélanie Laurent, Michael Caine and Morgan Freeman.
Directed by Louis Leterrier, the May 31 release follows a group of magicians who perform incredible heists. An inventive piece of viral marketing tied to the film has just kicked off called the Diamond Heist Challenge. The task is simple. Scour the Internet looking for the thirteen diamonds in a deck of cards, each unlocking a very special and exclusive clip from the movie.
And guess what? You've already got one as /Film is proud to debut a brand new image from the film that so happens to be the Five of Diamonds part of the challenge. Check it out below.
Here's the new image from Now You See Me.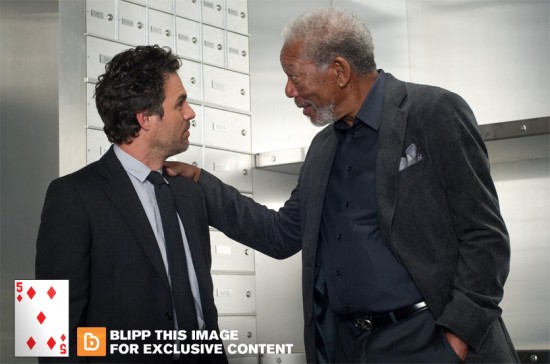 And here's a little background on the rest of the challenge, including its rules, an instructional video and the link to a page with all the clues.
In honor of the elaborate, dazzling heists executed by a super-team of the world's greatest illusionists, Summit Entertainment announces the NOW YOU SEE ME "Diamond Heist Challenge."In this magical challenge, all thirteen diamond playing cards – from the Ace through the King – have been hidden in various places online, from various websites to social media platforms, even in the New York Times crossword puzzle from Friday, May 3 (your first hint!). Like the characters in the film, players will have to look closely to uncover the mystery. Discover the hidden diamonds and join the ranks of the world's greatest illusionists!Once each of the thirteen diamond playing cards are found, participants can unlock exclusive video content featuring the stars of NOW YOU SEE ME utilizing Blippar, the image-recognition phone app. Each of the thirteen images, when Blipped, will unveil a unique video.Here is how to Blipp:1) Download the free Blippar app from the iTunes App Store or Google Play.2) Open the app, point your phone at the image and have it fill your screen.3) Watch the image come to life and view the exclusive video.Participants can find a list of clues here: http://nowyouseememovie.
com/DiamondHeistChallenge
Be sure to check the NOW YOU SEE ME Facebook & Twitter pages for hints.Watch the Instruction Video for more information:
For more on Now You See Me, check out our visit to the set.