New Posters For 'The World's End,' 'The Wolverine' And 'Man Of Steel'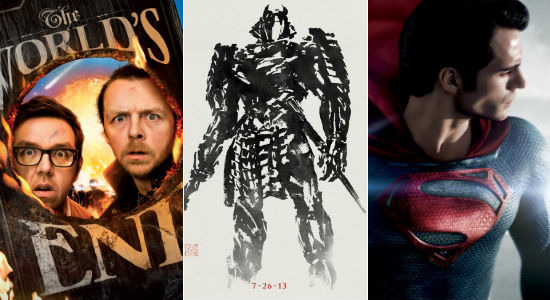 Several new posters have just been revealed, two for highly-anticipated superhero movies from which we've seen plenty already, and two from a film that's still almost a total mystery. The superhero films are The Wolverine and Man of Steel, and their posters reveal the Silver Samurai and a flowing cape respectively.
Edgar Wright's The World's End gets the third and forth new posters, which provide our first look at the film's antagonists. These antagonists will be more fully revealed and explained in the first teaser trailer, out on Wednesday, but we'll do some educated guessing below.
Thanks to Edgar Wright, James Mangold and Man of Steel on Twitter. Hat tip to Film Stage.
Again, The Wolverine and Man of Steel posters/banners pretty much explain themselves. One is just Superman and the other is the Silver Samurai, a character that had been previously hidden to fans until new footage was released last week. This sort of stencil/graffiti visual aesthetic makes for a great teaser poster.
On to The World's End, Edgar Wright, Simon Pegg and Nick Frost's third film in the Three Flavors Cornetto Trilogy. Wright debuted the new trailer exclusively in Los Angeles last week and I was fortunate enough to be there. Unfortunately, he asked that we not spoil the surprise for everyone so I have yet to write about it.
The first banner, however, gets pretty close to doing just that. You see a meteor, you see flaming rocks, what appears to be a suburban neighborhood and humans with glowing eyes. A lot of humans with glowing eyes, in fact. That trailer will be out on Wednesday and will confirm exactly who, or what, these things are but until then feel free to speculate below. Here's one clue: think sci-fi.
Do you like these banners for The World's End?