First Look At Ellen Page In 'X-Men: Days Of Future Past'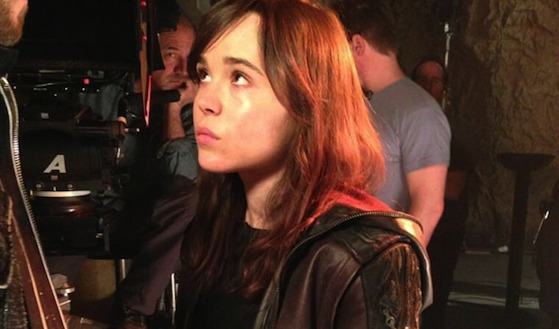 Bryan Singer continues his practice of beating paparazzi and spy photographers to the punch with photos of the cast of X-Men: Days of Future Past. The director/producer has used twitter to offer first looks at characters such as Storm, and now he's given fans the first image of Ellen Page as Kitty Pryde. Well, the first look at the actress as she appears in this film; she first played the character in X-Men: The Last Stand, released in 2006.
In the Days of Future Past comic storyline from 1981, Kitty Pryde is one of the primary characters, as an older version of the character possesses her younger self, and is the method by which the X-Men learn of a possible future in which mutants are interred in prison camps, or, in the case of high-profile figures, exterminated. We don't know how large Page's role will be in Singer's film version of the story, however. She may set the story in motion, and act one link between the two cinematic X-Men casts, or she may have a much larger role. Regardless, see the full pic below.
X-Men: Days of Future Past also features Hugh Jackman, Patrick Stewart, Ian McKellen, Halle Berry, Anna Paquin, Shawn Ashmore, Daniel Cudmore, James McAvoy, Michael Fassbender, Jennifer Lawrence, Nicholas Hoult, Peter Dinklage, Omar Sy, Booboo Stewart, Fan Bingbing and Adan Canto.
It will hit theaters on July 18, 2014.
The X-Men must travel in time to change a major historical event that could globally impact on man and mutant kind.