'Star Trek 3' Would Likely Center On Klingons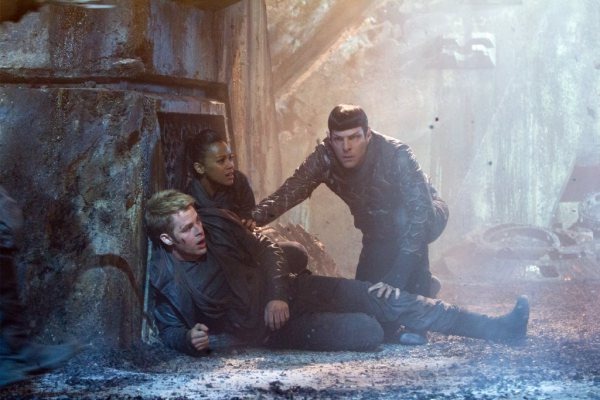 As is usually the case when a major franchise sequel is on the horizon, talk quickly turns to a potential follow up. Robert Downey Jr., for example, was hounded about doing Iron Man 4 before this weekend's Iron Man 3. With Star Trek Into Darkness just a couple weeks away, the cast and crew of that film are being grilled about what a potential Star Trek 3 might be.
We already know Paramount is hoping the film will be ready for 2016, the 50th anniversary of Star Trek. Despite J.J. Abrams' minor commitment to another film before that date, he's still open to directing. Now producer and co-writer Damon Lindelof has suggested that a third film could feature a Starfleet vs. Klingon plotline, jumping off from the role Klingons play in Into Darkness. He also talks about the possible return of a major character.
Read his quotes, as well as the thoughts of several other cast members, after the jump.
Minor spoilers for Star Trek Into Darkness follow.
Speaking to HeyUGuys (via Bleeding Cool), Lindelof said three major elements are already in play for a third Trek film, items such as:
'This is what the plot is going to be, this is who the bad guy is, this is what they're up against.'
He wouldn't confirm anything beyond that but, when asked about the Klingons, said the following:
You can never see enough Klingons, and I think in this film we've given the audience a little taste, but there's also a promise that there's a larger conflict on the horizon, and that would be fun to see.
The main villain in Star Trek Into Darkness is John Harrison, played by Benedict Cumberbatch, but the Klingons also play a role. (You've even seen them here.) I won't spoil more than that. But what Lindelof says is true, there's a promise of a larger conflict.
He was later asked if Cumberbatch's character could possibly return:
To answer that question would be to determine whether or not he actually survives this movie, but if he survives this movie, I think that we would be incredibly stupid to not use him again.
We'll have much more on the specifics of Star Trek Into Darkness, how the film sets up a third one and more as we get closer to release.
Also, Total Film talked to Chris Pine, Zachary Quinto and Zoe Saldana about the third movie, and here's a video of their reactions:
Star Trek Into Darkness opens May 15 in IMAX.