Exclusive: See Lawrence Kasdan's Handwritten Screenplay Pages For 'Empire Strikes Back'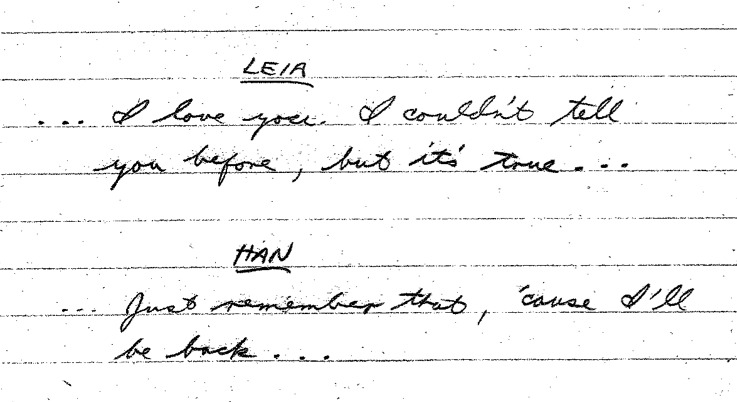 This week I talked to the great people at the Writers Guild Foundation Archive about giving us access to something unprecedented from Star Wars history. Screenwriter Lawrence Kasdan donated his original handwritten first draft of The Empire Strikes Back. The WGA West archive has the only copy in existence, other than the original, in addition to later drafts with notes by Kasdan himself. After the jump you'll see a series of pages that the WGA West has given us exclusive access to premiere in celebration of the "May the Fourth" celebration. So enjoy, and may the fourth be with you!
On one of the pages below you will see Kasdan's original handwritten screenplay page featuring Yoda talking to Luke. We have also been given a complimentary page from the first draft of the printed screenplay with Kasdan's handwritten notes "Figure out a speech pattern for Yoda".
We have also been given Lawrence's original handwritten page for the Leia / Han "I love you" scene, which of course features different dialogue (Harrison Ford famously came up with the classic "I know" on set while they were shooting the scene.)
And lastly, we have the original handwritten version of "I thought they smelled bad on the outside."