TV Bits: 'The Killing', 'Arrested Development', 'Pushing Daisies', 'Dexter', 'Hannibal', Frank Sinatra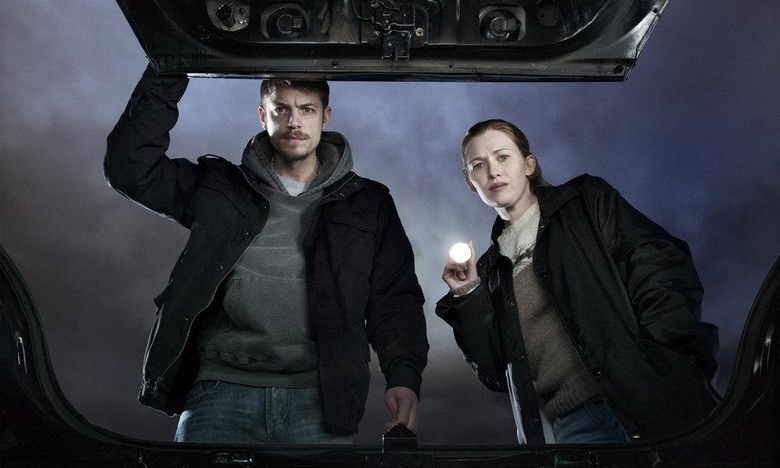 We have a particularly murderer-heavy edition of TV Bits today, with news about Dexter, Hannibal, and The Killing. After the jump:
Dallas, Veep, Rectify, and Orphan Black get renewed
Vampire Diaries spinoff gets green light
Julian Sands joins Dexter in mystery role
Downton Abbey gets its first black character
John Oliver will host The Daily Show this summer
Bryan Fuller has Pushing Daisies movie ideas
NBC affiliate axes Hannibal
The Killing's new mystery will be solved within the season
FX and Seth Rogen develop Bigfoot comedy
Dwayne Johnson, Mark Wahlberg, and Peter Berg team for HBO
Alex Gibney will direct Frank Sinatra documentary
The Arrested Development doc hits tomorrow; see more Season 4 stills
... Oh, all right. Here are a few more details: TNT has Dallas set for a 15-episode third season to premiere in early 2014, while HBO's Veep will return with ten new episodes for its third season next year. Meanwhile, freshman dramas Rectify and Orphan Black have each received orders for ten-episode sophomore seasons, from Sundance Channel and Syfy, respectively.
In addition, The CW has just announced that it is renewing Beauty and the Beast and Hart of Dixie. Not only that, it's decided it likes The Vampire Diaries so much it's ordering a spinoff called The Originals. The new series, which was set up in an episode earlier this year, follows Klaus to New Orleans. [Variety]
Based on the teasers we've seen so far for Dexter Season 8, our killer protagonist already has plenty to deal with in the next few episodes. But now Showtime's tossing another new character into the mix. Julian Sands (24) has been cast as Miles Foster, described only as "a wealthy international businessman." (Which just makes me think of this.) Dexter's final season begins June 30. [TV Guide]
The cloistered world of Downton Abbey just got a little more diverse. Brit actor Gary Carr will play the series' first black character, a "charming and charismatic" jazz singer named Jack Ross. [Deadline]
Jon Stewart's taking the summer off, but The Daily Show isn't. John Oliver will take over as host starting June 10 until September 3, at which point Stewart will return to the desk. It sounds like Oliver's stint will get off to a good start — Seth Rogen, Armando Iannucci, Mavis Staples, and Fareed Zakaria are lined up as guests for the first week. [Vulture]Bryan Fuller's dreams of Kickstarting a Pushing Daisies movie sequel haven't come true quite yet, but he's already got some ideas in mind for when they do.
If we were able to pull off the Kickstarter, there's a very fun zombie film that starts with a flash-flood in a cemetery and basically is about those denizens of that cemetery having to kill Ned before he can kill them, so it's a different kind of zombie movie.
Fuller added that they'd be fast (as opposed to slow) zombies "because it's the Pushing Daisies rules so Chuck is, you know, alive." [Den of Geek]
In other Fuller news: For a network show, Hannibal can get pretty gory and gruesome, and at least one NBC affiliate has had enough of it. Salt Lake City's KSL TV has announced that they will stop airing the show, "[a]fter viewing the past few episodes, as well as receiving numerous complaints from viewers."
This is the same Church of Latter Day Saints-owned station that previously dropped racy The Playboy Club and the gay-friendly The New Normal. But cannibal-loving Salt Lakers needn't fear: Hannibal is expected to make its way instead to the local CW affiliate. [EW]
Fans of AMC's The Killing still haven't forgotten the disappointment that came with the end of Season One, when the drama failed to bring the Rosie Larsen case to a satisfying conclusion. But if it's any comfort, the show has no plans to make that mistake again. "In season 3, the story lends itself to one season," says showrunner Veena Sud. "We're going to solve it at the end."
The new show will pick up fifteen months after the end of Season 2, and will reunite Linden and Holder, who "have not seen each other since that day that Sarah walked out of the car and walked down the street and out of her old life," explains Sud. For more details, click over to EW. The Killing returns June 2.
Get ready to see the terrifying Sasquatch in a whole new light. FX has begun developing Bigfoot, an animted comedy series based on Graham Roumieu's graphic novels In Me Own Words, Me Write Book, and I Not Dead.
The show, which is being written by Matt McKenna and executive produced by Seth Rogen and Evan Goldberg among others, will portray the misunderstood mythological creature as "a bipolar hopeless romantic that lacks the ability to properly express himself, living in both the human and animal world of Pine Falls but not quite fitting in to either one." Sounds like someone could use a hug. [Deadline]
Pain & Gain co-stars Mark Wahlberg and Dwayne Johnson are preparing to team up again, this time for HBO. The premium cable channel has given a pilot order to half-hour dramedy starring Johnson, about active and retired athletes living in Miami. Peter Berg will direct the episode, as well as executive produce with Johnson and Wahlberg. Production is scheduled to begin this fall. [Deadline]
Famed documentary filmmaker Alex Gibney (Taxi to the Dark Side, We Steal Secrets: The Story of WikiLeaks) is jumping over to TV for his next project. Gibney has signed on to direct and produce a four-hour miniseries documentary about Frank Sinatra for HBO.
Described as "an up close and personal examination of Sinatra, his life, his music and the legendary career that stands alone as unquestionably the most celebrated of the century," the film will feature never-before-seen footage including home movies and videos of private and professional performances." [Coming Soon]
Arrested Development Season 4 won't hit for another few weeks, but in the meantime fans can relive the last six years of Bluth fandom with The Arrested Development Documentary Project. The long-in-the-works film hits iTunes and Amazon Instant Video tomorrow, May 5.
Or, if you'd rather focus on looking ahead, there are also six more stills from the new season below from EW.
Arrested Development's new season comes to Netflix May 26.