Kevin Feige Talks 'Thor' And 'Captain America'; New Thor Still And Winter Soldier Concept Art Revealed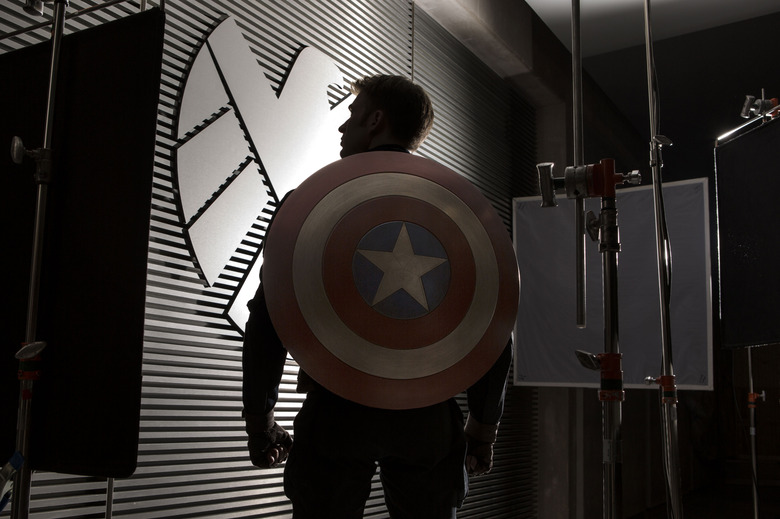 It's easy to forget how insanely ambitious Marvel's Phase One plan seemed back in 2008, when the first Iron Man movie was all we'd seen so far. But now that the strategy's turned out to be a smashing success, Marvel's challenge will be to clear that high bar again in Phase Two.
Fortunately for them and for us, so far it looks like they'll manage to do just that. Iron Man 3, which opens this weekend, is drawing strong reviews all over, and what we've seen and heard of Thor: The Dark World and Captain America: The Winter Soldier seems very promising. After the jump, check out a new image from the former, a bit of concept art from the latter, and Kevin Feige's comments on both.
For one thing, the characters will continue to evolve. For Captain America, that involves confronting a figure from his past. "Just as he's given permission to let go of the past and to focus on the modern world... a ghost comes up," Feige explains. That "ghost," of course, is Cap's old buddy Bucky Barnes, who's been resurrected and brainwashed to become the Winter Soldier of the title. Check out a new bit of concept art for him below.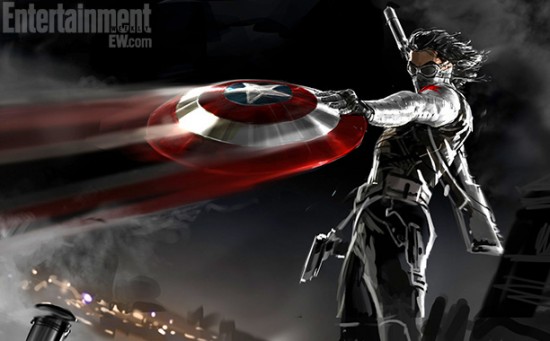 Meanwhile, Captain America will also be struggling to reconcile his mid-century ideals with S.H.I.E.L.D.'s murkier modern methods.
We weren't going back to World War II. Cap cannot travel in time. So while Tony can go home to Malibu and Thor goes up to Asgard and Hulk can sort of ride the rails, Cap was stuck. So Cap does stay with S.H.I.E.L.D. because he has nowhere else to go. But he's not necessarily comfortable there.
[...]
With the greatest generation in World War II, there's a tendency to reflect on that period and say. 'Things were black and white back then, and now it's hard to know who the bad guys are.' We wanted to play on that a little with Cap being uncomfortable with the way S.H.I.E.L.D., and in particular Nick Fury, operates. Fury certainly rides a line, sort of rides the shadows. He has, I think, lied to every character in every movie, though always for seemingly for the good.
As for Thor: The Dark World, Feige sounds excited to introduce the exotic new locales in the Marvel Cinematic Universe. "[Director Alan Taylor] is bringing a grittier, more visceral, more textured patina to the designs of the worlds, and to Asgard in particular," he said.
Taylor's already spent some time in fantasy lands thanks to his work on Game of Thrones, and he'll bring that experience with him to Thor. "It's less to chase either Game of Thrones or Lord of the Rings — because you're not going to catch up," Feige acknowledged. "But part of the fun of Thor over the other characters is he doesn't have to stay on Earth. We visit a few of the other realms in this new movie." Get a peek at one of those worlds in the new image below.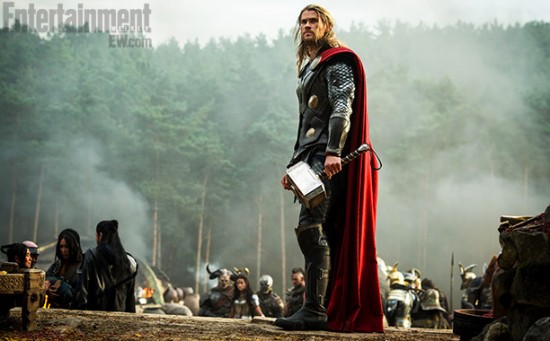 Thor: The Dark World lands November 8. Captain America: The Winter Soldier bows April 4, 2014.