Unmasked Klingon From 'Star Trek Into Darkness' Revealed; See New TV Spots And Images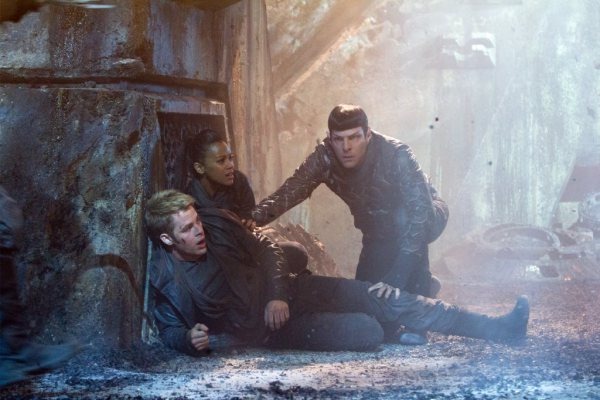 J.J. Abrams has done a pretty great job keeping Star Trek Into Darkness details under wraps, even during this last-ditch deluge of marketing materials, but little bits and pieces have been trickling out here and there. Today we have our first look at an unmasked Abrams-style Klingon from the movie, along with three TV spots, another clip, and a bunch of images. Hit the jump to see it all.
Paramount unveiled a new promo highlighting Zoe Saldana's Uhura, with icy narration from John Harrison (Benedict Cumberbatch) about her weaknesses.
We've seen similar videos for Kirk (Chris Pine) and Spock (Zachary Quinto) previously, so it's nice to get some better insight into this iconic character. But even more intriguing is the fact that it gives us our first peek at a helmetless Klingon from Abrams' vision of the Star Trek universe.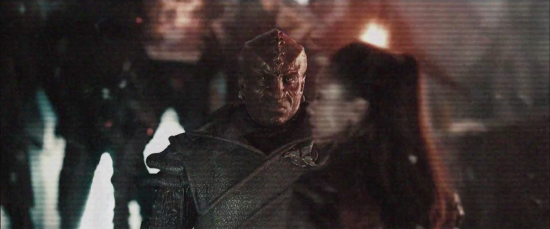 Abrams originally planned to put Klingons in his 2009 Star Trek but wound up cutting the scene, so we haven't been able to get a very good look at them yet. The new Klingons aren't exactly like the ones from the TV series, but for the most part the design doesn't look too drastically different. How they'll fit into the story isn't totally clear yet, but Abrams has previously said their role would be "definitely adversarial."
In addition to the Uhura-centric promo, Paramount has revealed two new TV spots. They're similar in style, but the first is mostly about Kirk while the second is more about the John Harrison threat.
If you've got room for one more Star Trek video in your life, there's also this new clip featuring Kirk and Scotty (Simon Pegg) making a run for it against some very dramatic music.
Then there are these stills from the LA Times, which mostly show Kirk and Spock doing their thing.
Looks good, right? You're not the only one that thinks so. As reported by Variety, early tracking indicates that Star Trek Into Darkness will make around $85 million domestically in its opening weekend. Possibly even more, if word-of-mouth is good. That's enough to make this the biggest Star Trek movie opening ever, beating out even 2009's Star Trek by about $10 million. All the more reason to get excited for the film's debut on May 17.