Paul Thomas Anderson's 'Inherent Vice' To Shoot This Month; Warner Bros. Financing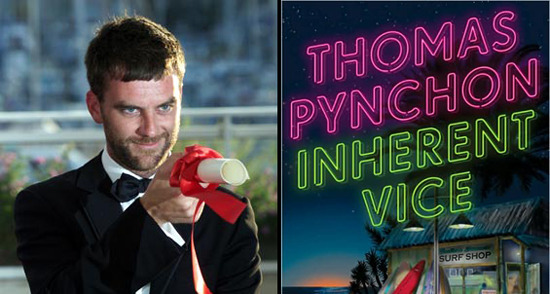 Just months after releasing his last film, The Master, Paul Thomas Anderson is set to get behind the camera once again. His next film Inherent Vice, based on the Thomas Pynchon novel of the same title, will reportedly start filming this month having recently received financing from Warner Bros. Joaquin Phoenix will star in a role once earmarked for Robert Downey Jr., as a pot-smoking detective in 1960s Los Angeles who finds himself wrapped up in a labyrinthine crime plot. Anderson's regular DP, Robert Elswit is also back on board, after taking a hiatus for The Master. Read more below.
The PTA-centric website Cigarettes and Red Vines first reported this news. It's confirmation of producer JoAnne Sellar's quotes from early this year that they hoped to start filming around this time.
As one would expect from a Los Angeles crime story, Vice will be filled with all kinds of seedy roles. While Phoenix is the only cast member that's been announced, word is Anderson has been spending his days meeting with actors to populate the rest of the film. Those names will likely begin to hit the public in the coming weeks.
Anderson took five years each to make his last two films, so having just released a masterpiece in 2012, it's almost unthinkable that we're going to get a new Anderson movie so soon. But, obviously, we couldn't be more enthusiastic. Here's the jacket description of Pynchon's novel:
Part noir, part psychedelic romp, all Thomas Pynchon— private eye Doc Sportello comes, occasionally, out of a marijuana haze to watch the end of an era as free love slips away and paranoia creeps in with the L.A. fog. It's been awhile since Doc Sportello has seen his ex-girlfriend. Suddenly out of nowhere she shows up with a story about a plot to kidnap a billionaire land developer whom she just happens to be in love with. Easy for her to say. It's the tail end of the psychedelic sixties in L.A., and Doc knows that "love" is another of those words going around at the moment, like "trip" or "groovy," except that this one usually leads to trouble. Despite which he soon finds himself drawn into a bizarre tangle of motives and passions whose cast of characters includes surfers, hustlers, dopers and rockers, a murderous loan shark, a tenor sax player working undercover, an ex-con with a swastika tattoo and a fondness for Ethel Merman, and a mysterious entity known as the Golden Fang, which may only be a tax dodge set up by some dentists.