Jon Hamm Joins Sandra Bullock In 'Despicable Me' Spin-Off 'Minions'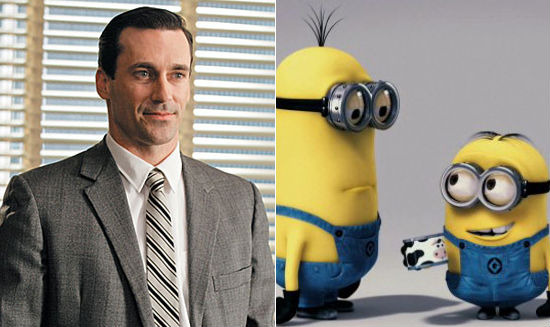 Despicable Me was a hit, and this summer's Despicable Me 2 is sure to be a hit as well. So Universal is well on their way to production on next year's spinoff, Minions. They've already landed Oscar-winner Sandra Bullock as Scarlet Overkill, an evil woman attempting world domination, and now they've added an Emmy-winner to her ranks.Mad Men's Jon Hamm has just joined the film. He'll play Overkill's husband, an inventor, who may or may not share his wife's ambition for the domination of mankind. Either way, they'll both have plenty of little yellow men to worry about. Read more details about the film's plot below.Deadline broke the news of the casting and also have our best description yet of the film's plot:
This spinoff establishes that Minions have existed since the beginning of time, in service of history's most ambitiously evil villains. Through their lovable ineptitude, Minions have managed to thwart and ultimately destroy all of those bad guys. This story picks up in the 1960s, before they hench-ed for Gru. With no more super-villains to serve, the Minions fall into a collective depression and three of them set out to seek a new evil master. They wind up at a villain convention, where they compete for the right to be henchmen for Scarlet Overkill, whose Audrey Hepburn-like high style appearance belies her world domination ambition and her aspirations to become the world's first female super-villain.
Sounds like a surprisingly clever and fun take on the world of Despicable Me. Plus, we know that Hamm and Bullock are stellar. Consider me interested.
Minions is scheduled for release December 19, 2014. Despite the long wait, expect some kind of teaser when Despicable Me 2 hits theaters July 3.