Cool Stuff: Righteous Rides Art Show Focuses On The Coolest Cars, Bikes And More In Film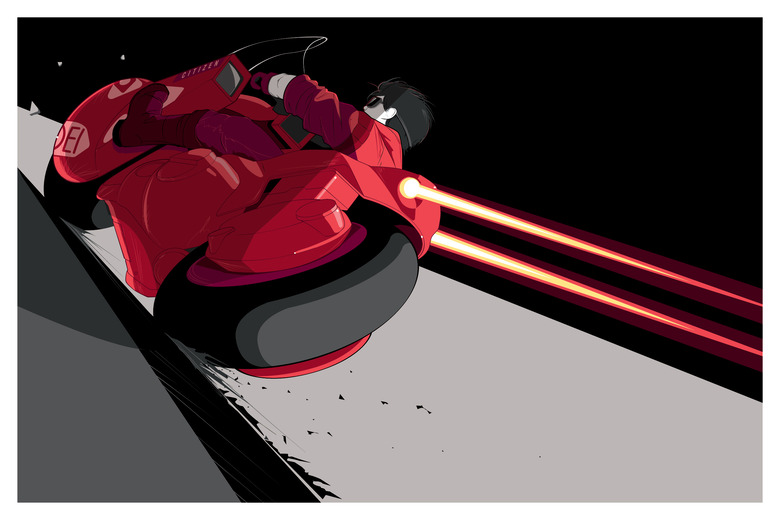 Every great hero needs a signature mode of transportation. A huge muscle car, a distinctive motorcycle, or maybe a spaceship that looks like a hamburger. Whatever their pleasure, the latest art exhibit by the Hero Complex Gallery has got it covered. The show is called Righteous Rides...And the Dudes Who Drive Them and it will open May 3 in Los Angeles, CA.
Artists have made posters and paintings based on the "righteous rides" in films such as Flight of the Navigator, Akira, Star Wars, My Neighbor Totoro, Skyfall, Bullitt, Up, Spaceballs, District 9, Easy Rider, the Dukes of Hazzard and so much more. Check out a small sample of the show below.
Righteous Rides opens from 6-10 p.m. May 3 at 2020 South Robertson Blvd., Studio D in Los Angeles. It'll remain on display through May 19 on Wednesday through Saturdays, 11 a.m.-6 p.m. and Sundays 11 a.m.- 4 p.m. Online sales (on May 4) and more information can be found at www.herocomplexgallery.com.
Mouse over each piece of art for the artist name and property. And then, be sure to check the gallery itslef for more based on Batman, X-Men, almost anything you can think of. It's going to be an insane show.