Bad Robot Options Stephen King Novel '11/22/63' For Television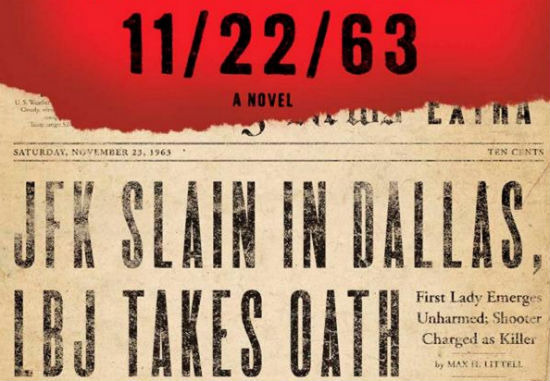 We may receive a commission on purchases made from links.
John F. Kennedy was assassinated on November 22, 1963. Years later, a man travels back through time to the year 1958. Upon arrival he's infused with purpose. He has five years to do everything in his power to stop the assassination.
That's the plot of Stephen King's novel 11/22/63 and J.J. Abrams' Bad Robot has just secured the rights to adapt the story for cable TV.
Deadline confirmed the deal. They state that Bad Robot (which produces current shows include Person of Interest and Revolution) has been looking to get into cable TV. This project is being geared towards that foray, either as a miniseries or a standard show. Jonathan Demme was once attached to write and direct a film version.
The creative pairing of King and J.J. Abrams is pretty exciting. They're two distinct, popular and very creative voices. While King is generally more macabre, he and Abrams share a love of suspense, nostalgia, and pop culture history. Many of Abrams' projects, such as Super 8 or Cloverfield, share plot devices or archetypes with King novels and the pairing of the two feels like a perfect marriage. Wrapping up the Bad Robot sense of wonder and King's suspense in this time-travelling adventure through history definitely makes for a project to keep an eye on.
Here's the description of the novel from Amazon:
Life can turn on a dime—or stumble into the extraordinary, as it does for Jake Epping, a high school English teacher in a Maine town. While grading essays by his GED students, Jake reads a gruesome, enthralling piece penned by janitor Harry Dunning: fifty years ago, Harry somehow survived his father's sledgehammer slaughter of his entire family. Jake is blown away . . . but an even more bizarre secret comes to light when Jake's friend Al, owner of the local diner, enlists Jake to take over the mission that has become his obsession—to prevent the Kennedy assassination. How? By stepping through a portal in the diner's storeroom, and into the era of Ike and Elvis, of big American cars, sock hops, and cigarette smoke. . . . Finding himself in warmhearted Jodie, Texas, Jake begins a new life. But all turns in the road lead to a troubled loner named Lee Harvey Oswald. The course of history is about to be rewritten . . . and become heart-stoppingly suspenseful.