'Fast & Furious 6' Final Trailer: Defying Gravity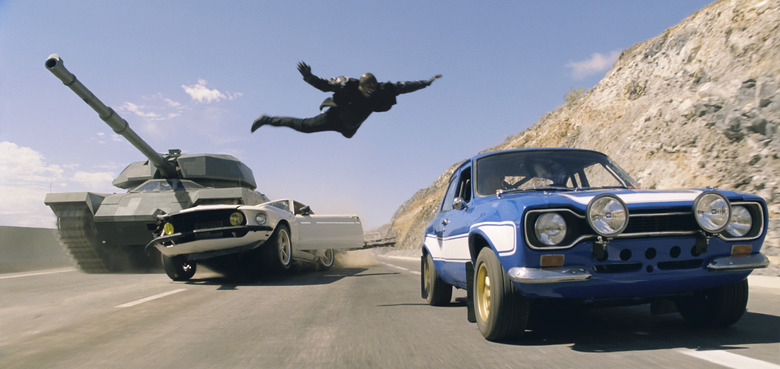 The Fast and the Furious films have always done well, but 2011's Fast Five really kicked the franchise up to a whole new level in terms of box office, critical praise, and gleefully over-the-top ridiculousness. With some luck, Fast & Furious 6 could raise the bar even higher. That shot of a car shooting out of  burning airplane, for example, seemed like a great start.
Helmed by returning director Justin Lin, the latest installment of the car-centric series sees Hobbs (Dwayne Johnson) turning to Dom (Vin Diesel), Brian (Paul Walker) and the rest of the gang for help in catching a dangerous mastermind (Luke Evans). In exchange, our favorite thieves will get full pardons so they can return home. Complicating matters is the unexpected reappearance of Letty (Michelle Rodriguez) whom they believed to be dead. Watch the last trailer after the jump.
The way these people fly around, you'd think they were actual superheroes. But then, a strict adherence to the laws of physics would kind of defeat the purpose of a Fast and the Furious movie, wouldn't it? Fast & Furious 6 looks like it's crammed with as much insanity as any fan of the series could possibly want. And though these films have never placed too much emphasis on character-driven drama, I like that Dom's love of family gives Fast & Furious 6 just a bit of heart.
Fast & Furious 6 opens May 24. Gal Gadot, Sung Kang, Tyrese Gibson, Chris "Ludacris" Bridges, and Gina Carano also star.
Since Dom (Diesel) and Brian's (Walker) Rio heist toppled a kingpin's empire and left their crew with $100 million, our heroes have scattered across the globe. But their inability to return home and living forever on the lam have left their lives incomplete.
Meanwhile, Hobbs (Johnson) has been tracking an organization of lethally skilled mercenary drivers across 12 countries, whose mastermind (Evans) is aided by a ruthless second-in-command revealed to be the love Dom thought was dead, Letty (Rodriguez). The only way to stop the criminal outfit is to outmatch them at street level, so Hobbs asks Dom to assemble his elite team in London. Payment? Full pardons for all of them so they can return home and make their families whole again.