Sequel Bits: 'Alien: Resurrection', 'Transformers 4', 'Fast & Furious 7', 'Jurassic Park 4', 'Pirates 5'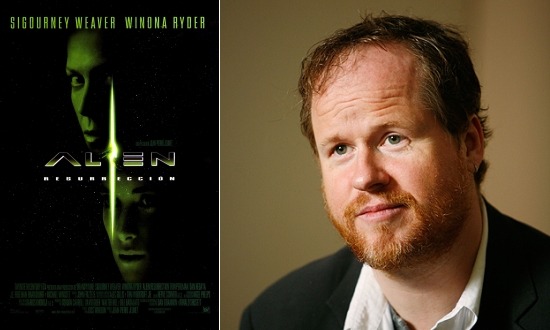 Joss Whedon is still pretty bummed about what happened with Alien: Resurrection. Also after the jump:
Jack Reynor talks Transformers; Megan Fox won't return
Michael Bay reveals some shooting locations and a runtime
Producer claims Dwayne Johnson will be back for Fast 7
Jurassic Park 4 and Pirates 5 might head to Hawaii to shoot
Because it's a totally different story. It's with Mark Wahlberg and his daughter [Nicola Peltz]. It's the same [world]. You have the three movies, but there's a reason why there's a new cast. And it's explained very clearly when you see it, and it's going to feel natural. So it's not like we're starting over or anything like that.
Bay's new star Jack Reynor, too, told press that the story is going in "a whole new direction."
All I knew was basically, Michael was going to make Transformers 4 and we were going to chat about me being in it. We didn't chat about making a fourth or any of the motives behind it. But personally, I think there's a lot more to be done with it. There's a whole new direction to take it in, and a lot more to explore in that universe, and I think we're going to make a definitive step away from the previous movies, and this is going to be a lot of fun and I'm incredibly excited.
One way it'll be different is that it'll be shorter than the previous movies, with a running time around 127 minutes, according to Bay. The earlier installments clocked in at 144 minutes, 150 minutes, and 154 minutes, respectively.
Bay also revealed that shooting would begin in five weeks in Hong Kong and continue to China, Detroit, and Chicago. Detroit locations include the Michigan Motion Picture Studios in Pontiac and the General Motors Technical Center in Warren. Transformers 4 is dated for June 27, 2014. [E!, THR, TLAMB, TFW2005]
Universal's so eager to move ahead with Fast and Furious 7, star Dwayne Johnson isn't even sure he can fit it into his schedule. However, producer Neal H. Moritz assures fans that his character Luke Hobbs will indeed make his way into the story.
"[Fast & Furious 7] is a new chapter, but The Rock will be involved as well," he explained. The film shoots this summer with director James Wan for a July 11, 2014 release. [Collider]
Jurassic Park 4 and Pirates of the Caribbean 5 are heading to tropical lands. According to a source who spoke with Pacific Business News, the two films will be shooting in Hawaii in the near future, along with Godzilla and Cameron Crowe's untitled film. Both franchises have filmed there previously. Jurassic Park 4 is scheduled for June 13, 2014, and Pirates of the Caribbean 5 for July 10, 2015. [via Coming Soon]
Despite his recent successes, Joss Whedon admits there's one notable failure on his resume that he'll never get over: Alien: Resurrection, for which he wrote the script. Calling it one of the lowest points of his career, Whedon revealed that the experience taught him "casting is storytelling."
I wrote two characters for Alien: Resurrection and their arc was that you would not know what way they were going to go. One of them turned out to be insane – and what do they do? They call Brad Dourif. So there is no plot twist. Brad is a very good actor but he has been pigeonholed into these roles. Then they case J.E. Freeman as a thug – and his character was also supposed to be a mystery. So there you go again – the mystery is gone. Those are just a couple of examples because there are thousands of them when it comes to Alien: Resurrection.
"When you are making a movie you are making something that is going to last forever, especially now with the internet," he said. "So there is always going to be a shitty Alien movie out there. A shitty Alien movie with my name on it." [Total Film via Comic Book Movie]