Johnny Depp And Meryl Streep Could Go 'Into The Woods' With Disney And Rob Marshall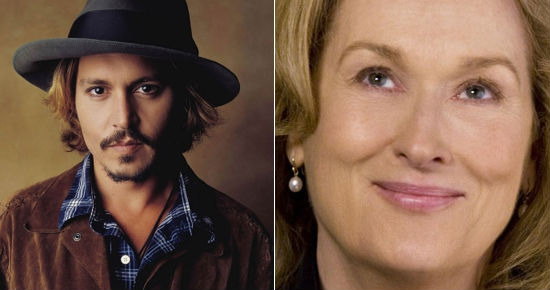 Two titans of Tinseltown could be heading Into The Woods with Oscar-winning director Rob Marshall. Both Johnny Depp and Meryl Streep are in talks to join Disney's film adaptation of Stephen Sondheim's Tony Award winning musical about a baker, his family, and a witch who places a curse on them. From there the characters take a trip through several classic fairy tales like Cinderella, Jack and the Beanstalk and Little Red Riding Hood. Think something on the scale of Les Miserables, but with a story like Once Upon A Time.
Streep is in talks to play the witch and Depp's role is still a mystery, but it would likely be the baker or the narrator. Filming could start in early 2014, which raises some serious questions about the status of Pirates of the Caribbean 5. We'll discuss below.
Variety broke the news of the possible casting. There's no release date set on the film, but David Krane is currently working on the music for a script by James Lapine, who wrote the original book. Disney is hoping Marshall can start filming in early 2014, which is when Depp's schedule clears up.
This news carries several sub-categories of consequence, mostly in regards to another Disney tentpole. First, it pretty much guarantees Marshall won't be back for Pirates of the Caribbean 5, which has a July 10, 2015 release date already in place. It also suggests that script is far from ready if Depp is considering doing this before a film that already has a release date in place.
Both actors would be incredible additions to this film, though, and automatically elevate it to one of the most highly anticipated films of whichever year it gets released.
Are you a fan of Into the Woods? Do you think this will all work out?