Sequel Bits: 'Star Trek', 'Kick-Ass 2', 'Hangover III', 'Before Midnight', 'Monsters University', 'V/H/S/2'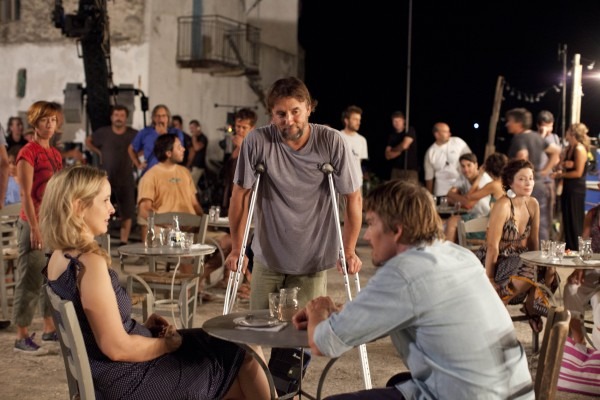 Today's Sequel Bits veers from deeply romantic to adorably funny to bone-chillingly creepy. After the jump:
Star Trek and Kick-Ass 2 get rated by the MPAA
Todd Phillips is pretty sure Hangover II is brilliant
The producers of Paranormal 4 are getting sued
Chris Pine chats about Kirk's self doubt in Star Trek
See more Celine and Jesse pics from Before Midnight
See posters for Monsters University and V/H/S/2
And just like the last Kick-Ass, Kick-Ass 2 will enter theaters with an R rating for "strong violence, pervasive language, crude and sexual cotent, and brief nudity." What it doesn't have that the last film did is "some drug use." Kick-Ass 2 lands in theaters August 16. Star Trek Into Darkness opens May 17. [Comic Book Movie]
The Hangover Part II was nowhere near as well received as the first movie, and director Todd Phillips is still annoyed about it. "Yes, we do a wake-up and a blackout, but every joke in Hangover II is completely different. My feeling is that it's the better movie of the two," he said. "I think in five or ten years time, people will come to realize how brilliant Hangover II is."
Well, maybe and maybe not, but you can be sure The Hangover Part III will be very different from the other two. For one thing, it'll face mortality. "People die in this movie," he pointed out. "Nobody's died in them before." Seems like a fitting theme for the third installment of the trilogy, which Phillips calls "an unequivocal end." The Hangover Part III premieres May 24. [Empire]
Speaking of unoriginal ideas, the producers of Paranormal Activity 4 have been sued by writer-director Michael Costanza, who claims the Paramount horror sequel used concepts he had pitched without his permission. At the time, he alleges, producers said they weren't interested, but when he saw the film several months later he found the story to be "almost identical" to his. [THR]
It's obvious from the trailers that Chris Pine gets some tricky stunts in Star Trek Into Darkness, but the actor says putting on his wetsuit was even more of an ordeal.
Oh god the wetsuit! It's getting more play than I ever expected. The wetsuit was pain if I am going to be honest–a lot of baby powder. I would say that Spock has the majority. Kirk just get's the s–t beat out of him as usual – dangling [off things] and pulling himself up–and making a weird face whenever he is doing it.
For his character, however, the bigger challenge is coming to terms with doubt.
But I think for Kirk what is really the hard part is the emotional journey and having–for a guy that has always thought that he knows what is right – going from a place of total confidence to absolute doubt. And hopefully that will come through and audiences will see what for me as playing Kirk is to find Kirk at a place where he pulls himself back up and restoring that confidence.
Star Trek Into Darkness drops May 17. [Trek Movie]Before Midnight is hitting theaters in just a few weeks, but if you're getting impatient to catch up with Celine (Julie Delpy) and Jesse (Ethan Hawke) you can peruse the new batch of stills below. Be warned that some spoilers follow.
The third installment of Richard Linklater's romantic series opens May 24. [Collider]
The marketing campaign for Monsters University has been like one long, loving ode to the college experience, with nods to recruitment videos, fraternities, beer pong, and dorm room pranks. See one of the latter in the latest poster.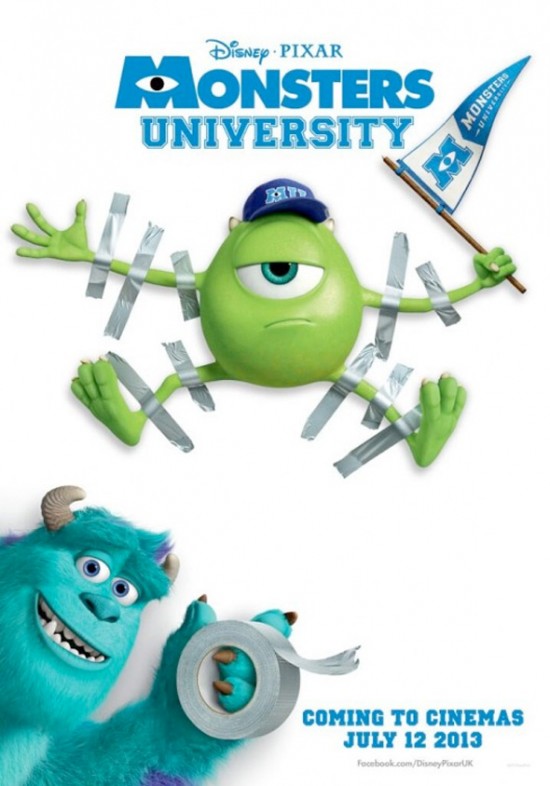 [via First Showing]
Appropriately enough, Disney/Pixar have some special advance screenings planned next week for non-monster college kids. The events themselves are free, but seats are bound to fill up quick so make sure you arrive early and bring your college ID. Head to Facebook for details.
Everyone else can see Monsters University when it premieres June 21. In the meantime, read some of the early buzz here. [via Pixar Planet]
Some sequels fall prey to the law of diminishing returns, but by most accounts V/H/S/2 is actually even better than the first. Check out the striking new poster below.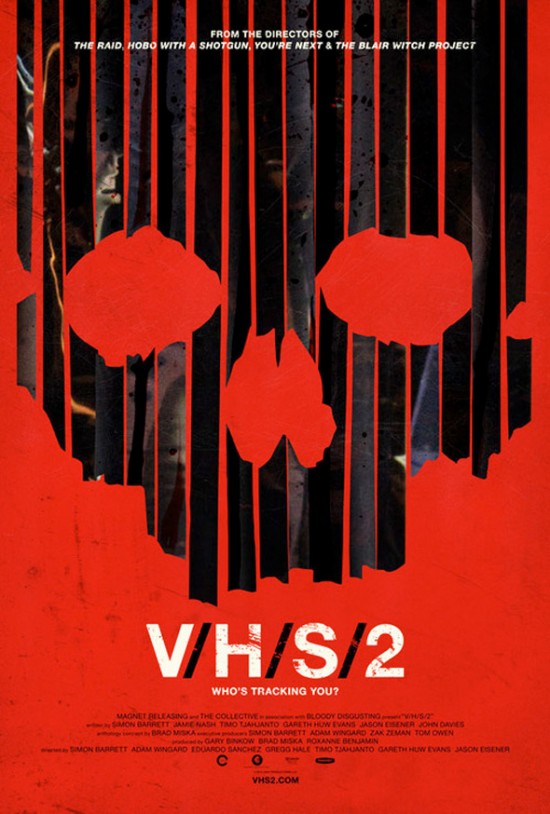 V/H/S/2 lands on VOD June 6 and in theaters July 12. Among the directors this time around are Simon Barrett (You're Next), Jason Eisener (Hobo With a Shotgun), Gareth Evans (The Raid: Redemption), and Eduardo Sanchez (The Blair Witch Project). [via First Showing]