First Look: Brief Footage From Edgar Wright's 'The World's End'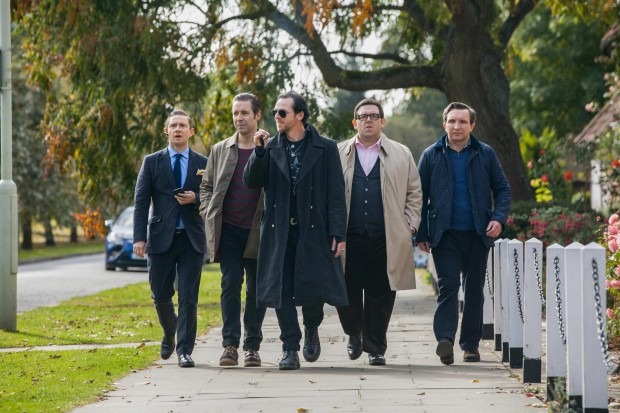 That headline is true. This story features the first footage anywhere from Edgar Wright's The World's End, one of our most anticipated films of 2013. However, it's brief. Very brief. Three seconds brief. It's used as part of a montage for something called the "Summer of Cinema," a UK event. It's actually a really cool trailer featuring footage from a ton of big, and small, summer movies, made even more exciting by the two shots from The World's End. Check it out below.
Thanks to Bleeding Cool (via Collider) for the heads up. A full trailer should be out soon.
And here are the two screen shots of the footage.
I know it's only three seconds or so, but I have to say what I'm very intrigued about is Simon Pegg's character, Gary King. He seems like a wild, ball of energy.
Oh, and if you're an Edgar Wright fan, Entertainment Weekly is holding a Shaun of the Dead/Scott Pilgrim vs. The World double feature next week. I heard it might be a good idea to show up to.
Here's the story synopsis for The World's End. It opens July 19 in the UK and August 23 in the US.
20 years after attempting an epic pub crawl, five childhood friends reunite when one of them becomes hell bent on trying the drinking marathon again. They are convinced to stage an encore by mate Gary King, a 40-year old man trapped at the cigarette end of his teens, who drags his reluctant pals to their home town and once again attempts to reach the fabled pub, The World's End. As they attempt to reconcile the past and present, they realize the real struggle is for the future, not just theirs but humankind's. Reaching The World's End is the least of their worries.