Watch A Single Movie Trailer For (Almost) All The Major Releases Of Summer 2013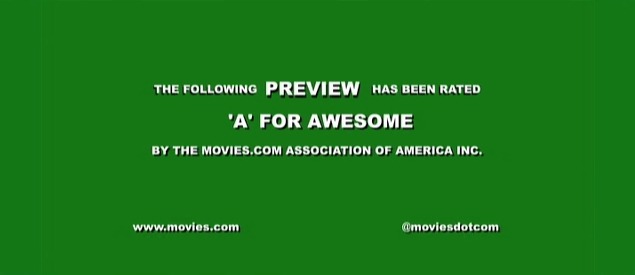 Trailers! Who has time to watch them all? There are something like forty wide releases due out this summer alone. If you assume each trailer runs about two minutes, that's about an hour and half of your life you'll never get back. That's time you could've spent actually watching one of these movies.
If you only watch one trailer this spring, then, you'll want to make it this one. This three-minute supercut teases most of the season's biggest releases, from Iron Man 3 to The Mortal Instruments: City of Bones. It's surprisingly coherent, which may suggest that these titles aren't as different as the filmmakers would like us to think. Or maybe it just proves that with the right music and some skillful editing, you can totally change the meaning of any scene. In any case, watch it after the jump.
There are still a few titles missing — what, no love for the Tyler Perry-produced Peeples? — but it's got most of the bases covered. Overall, it looks like we're in for one epic, inspiring, action-packed summer, stuffed to the brim with fiery explosions, meaningful looks, and a coke-addled Ken Jeong. At 2:51, this video is on the long side for a trailer, but when you consider the fact that it's actually 27 trailers in one you can pat yourself on the back for having saved fifty minutes.
Here's a list of every movie included and its release date:
May 3: Iron Man 3
May 10: The Great Gatsby
May 17: Star Trek Into Darkness
May 24: The Hangover Part III
May 24: Fast & Furious 6
May 24: Epic
May 31: After Earth
May 31: Now You See Me
June 7: The Internship
June 12: This Is the End
June 14: Man of Steel
June 21: Monsters University
June 21: World War Z
June 28: White House Down
July 3: Despicable Me 2
July 3: The Lone Ranger
July 12: Pacific Rim
July 12: Grown Ups 2
July 17: Turbo
July 19: The Conjuring
July 19: RED 2
July 26: The Wolverine
Aug 7: Percy Jackson: Sea of Monsters
Aug 9: Elysium
Aug 9: Disney's Planes
Aug 16: Kick-Ass 2
Aug 23: The Mortal Instruments: City of Bones