'Star Trek Into Darkness' Japanese Trailer, New Still, Spock Promo, And Character Posters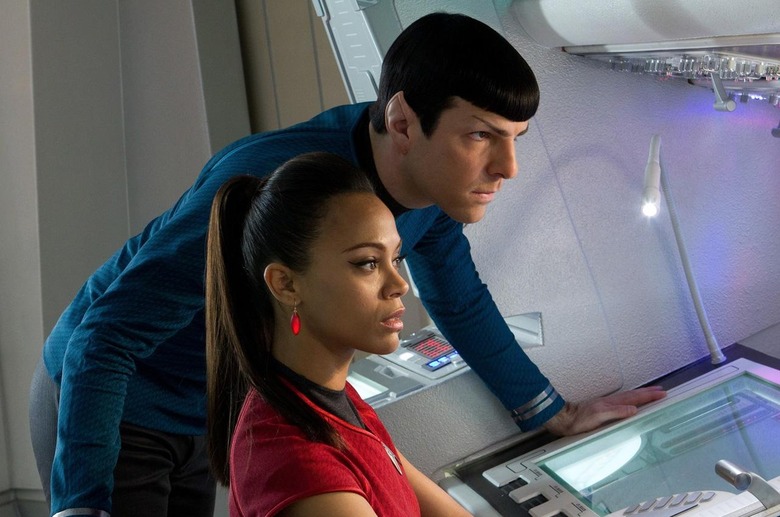 With the opening of J.J. Abrams' Star Trek Into Darkness just around the corner, we can hardly turn around these days without stumbling across a new trailer or clip or TV spot. Today we have two new videos. The first is the Japanese trailer, which contains a bit of new footage, and the second is a promo centered on Spock (Zachary Quinto) and voiced by John Harrison (Benedict Cumberbatch).
In inanimate marketing, meanwhile, we have a new still of the other, non-Enterprise ship that's been spotted in promos, plus character posters for Spock, John Harrison, Kirk (Chris Pine), Uhura (Zoe Saldana), Carol Marcus (Alice Eve), Sulu (John Cho), Bones (Karl Urban), Scotty (Simon Pegg), and Chekov (Anton Yelchin). See it all after the jump.
[via Coming Soon]
Most of it is stuff we've seen before, but there are a few new shots mixed in. Trek Movie has a super in-depth analysis of the new trailer if you really want to tear into it.
There's also this new high-res still, thanks to the Star Trek Into Darkness app, that offers a better look at the USS Vengeance Dreadnought-class ship.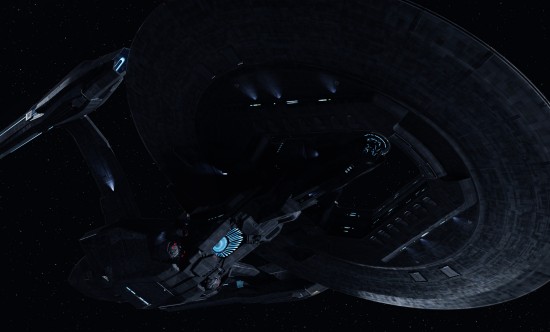 [via Trek Movie]
The new promo is similar to the "Disruption" video that landed last week, but features John Harrison turning his chilling analytical powers from James Tiberius Kirk to Mr. Spock.
[via Yahoo]
We still don't know much about the villain, but it is very clear he's a force to be reckoned with. From the looks of it, he knows just how to get under the skin of the U.S.S. Enterprise.
Finally, we also have a slew of character posters for the entire main crew. The yellowish ones debuted on Flicks and Bits seem to be for the European market. The second Scotty poster and Chekov poster, which feature a different design, premiered on Moviefone.
Star Trek Into Darkness opens May 17.
When the crew of the Enterprise is called back home, they find an unstoppable force of terror from within their own organization has detonated the fleet and everything it stands for, leaving our world in a state of crisis. With a personal score to settle, Captain Kirk leads a manhunt to a war-zone world to capture a one man weapon of mass destruction. As our heroes are propelled into an epic chess game of life and death, love will be challenged, friendships will be torn apart, and sacrifices must be made for the only family Kirk has left: his crew.