Zach Braff Kickstarting 'Garden State' Follow-Up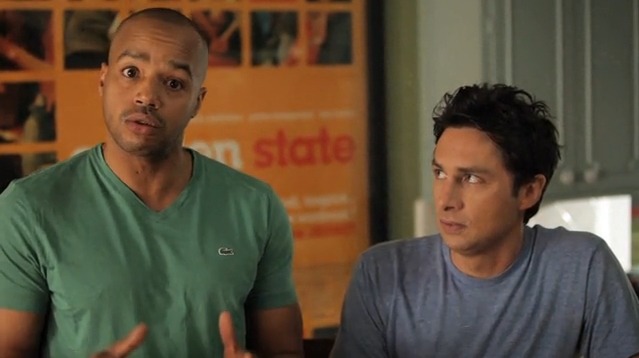 Creators of brilliant-but-cancelled TV series aren't the only ones who've been inspired by Veronica Mars' Kickstarter success. Zach Braff has taken note, and now he's taking a similar route to fund his next movie.
Braff made quite a splash with his 2004 feature directing debut Garden State, but as he explains it, the difficulty of finding financing has kept him from making a follow-up. Until now, that is, with your help. Wish I Was Here is designed as "not a sequel in story, but a continuation of the tone" of Garden State, centering on a 30something struggling actor instead of a 20something one. Watch his pitch video, which features appearances from Donald Faison, Jim Parsons, and Chris Hardwick, after the jump.
Faison, Parsons, and Hardwick aren't locked for casting just yet, in the same way that Jason Dohring wasn't 100% confirmed for Veronica Mars when he helped Kristen Bell and Rob Thomas with their pitch video. But as with Dohring, it seems likely they'll make their way into the project eventually.
Here's a more detailed explanation of the plot:
"Wish I Was Here" is the story of Aidan Bloom (played by Braff), a struggling actor, father and husband, who at 35 is still trying to find his identity; a purpose for his life. He and his wife are barely getting by financially and Aidan passes his time by fantasizing about being the great futuristic Space-Knight he'd always dreamed he'd be as a little kid.
When his ailing father can no longer afford to pay for private school for his two kids (ages 5 and 12) and the only available public school is on its last legs, Aidan reluctantly agrees to attempt to home-school them.
The result is some funny chaos, until Aidan decides to scrap the traditional academic curriculum and come up with his own. Through teaching them about life his way, Aidan gradually discovers some of the parts of himself he couldn't find.
Sounds Garden State-y, all right. If all goes well, Braff's plan is to shoot this summer, enter post-production in the fall, and hit the film festival circuit early next year, possibly starting with the Sundance Film Festival. Click here to get more information or contribute.