Construction To Begin This Summer On Hollywood 'Wizarding World Of Harry Potter'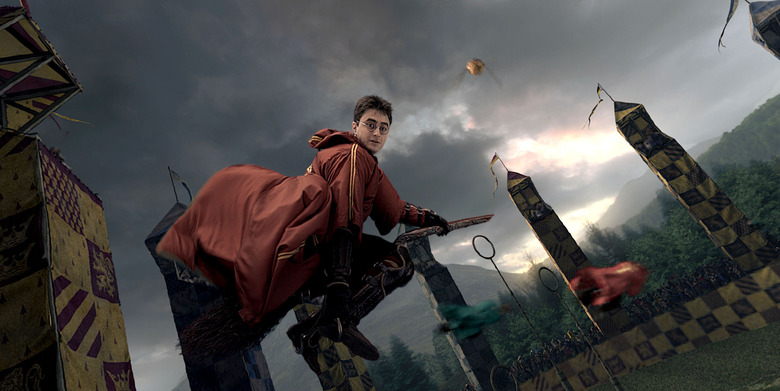 Harry Potter is making his way to sunny Southern California. In a unanimous vote, the Los Angeles County Board of Supervisors has given the go-ahead to NBCUniversal's plans to build a Wizarding World of Harry Potter theme park at Universal Studios Hollywood.
The attraction is part of a $500 million plan from the company which also includes upgrades to the studio backlot's office space, TV production facilities, and other infrastructure. Hit the jump for more info.
Details on exactly which attractions will make it into the new Wizarding World are scarce, but we've previously heard that Orlando's Hogwarts Castle and the Harry Potter and the Forbidden Journey ride would be replicated in Hollywood. Hogsmeade is also likely to make its way to California.
Construction will begin this summer on both the Hollywood park and the studio upgrades. NBCUniversal estimates that its overall 25-year "Evolution Plan," of which the Harry Potter park is a part, will create over 30,000 jobs and generate $2 billion in economic activity for the area. No opening date for the Harry Potter park has been announced, though early reports indicated it wouldn't be until 2016 or later.
The Wizarding World of Harry Potter in Orlando proved a massive success, increasing attendance by 68% at Universal Orlando. Plans are already underway to expand the original attraction. Another Wizarding World, at Universal Studios Japan in Osaka, was announced last year.
UNIVERSAL CITY, California, April 23, 2013 – NBCUniversal announced today plans to begin construction of the first projects of its 25-year Evolution Plan. The Evolution Plan represents a $1.6 billion investment in tourism and production. This long-term investment in two industries that are vital to Los Angeles will create more than 30,000 jobs and generate $2 billion of economic activity during operations for the region.
"After nearly a decade of work on the Evolution Plan, today's vote sets the stage for our next 100 years in Los Angeles," said Ron Meyer, president and COO of Universal Studios. "We are thankful for the support and leadership we have received from both the County and City of Los Angeles and are ready to get started investing in these important tourism and production projects in the next few months."
Starting in late summer, NBCUniversal will begin construction of The Wizarding World of Harry Potter themed land at Universal Studios Hollywood theme park, as well as new and upgraded television production facilities, office space and infrastructure on the Universal Studios lot. These projects represent a nearly $500 million investment in the Los Angeles economy and the creation of more than 2,000 construction jobs alone.
"We thank Los Angeles County Supervisor Zev Yaroslavsky, the entire Board of Supervisors, and County staff for providing us the path to bring much needed jobs and investment to Los Angeles," said Corinne Verdery, Chief Real Estate Development and Planning Officer, NBCUniversal. "The working relationship we have built with the community was invaluable in developing our future plan and we are grateful to our nearly 7,500 supporters and union partners who have been with us every step of the way. We look forward to bringing The Wizarding World of Harry Potter to Hollywood, forever changing the face of tourism in Los Angeles."
The Wizarding World of Harry Potter at Universal Studios Hollywood will be a fully immersive experience for the entire family designed to bring the Harry Potter fiction and films to life with impeccable detail and authenticity. Similar to the dynamic Universal Orlando Resort themed land that opened in 2010, the Hollywood experience will be faithful to the visual landscape of the fiction and films, including Hogwarts castle that will serve as the centerpiece of the impressively themed environment. The Wizarding World of Harry Potter is a collaboration between Warner Bros. Entertainment and Universal Parks and Resorts.
On the Universal Studios lot, NBCUniversal will upgrade existing production facilities and add new capabilities to better respond to the needs of television production. In addition, NBCUniversal is looking to create modern offices that will house everything from post-production services to traditional office space.
[Source: Deadline]