Phil Lord And Chris Miller Attached To Direct '21 Jump Street' Sequel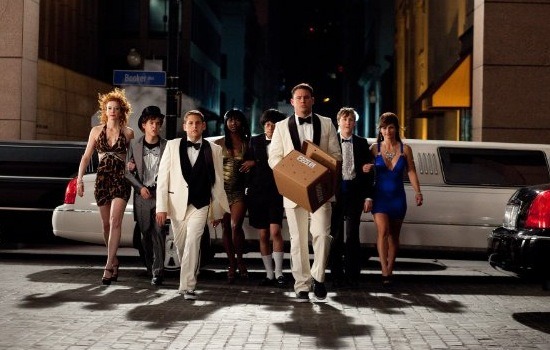 When Sony announced plans to shoot a 21 Jump Street sequel later this year for a release in 2014, we didn't know if original directors Phil Lord and Chris Miller would be returning to oversee the new chapter. The two are, after all, still hard at work on The Lego Movie for Warner Bros., and that should involve a heavy dose of post-production before the February 7 2014 release date.
Most of that post-production, however, should be somewhat hands-off for the directors, giving them the freedom to develop and direct a live-action movie while the endgame work is done on Lego. And so one of the 21 Jump Street producers now says that the timing should work out for the original directors to be in charge of the sequel as well.
Collider sat down with producer Neal Moritz, who explained the jumping-off point for the second film:
It leads off where we ended the last film and our guys are going to college... The relationship developed quite a bit in the first movie and now we're kind of in the marriage phase between the two guys.  Now they're actual partners, so they're married – what happens once marriage starts?  In certain ways, it's kind of like the Seven Year Itch of police buddy comedies.  What worked so well about the first one was – it was funny, yes, there was good action, yes – but really what worked more than anything was that there was great heart.  That's the thing we've been working really hard on, just try and make sure that the heart of the first one is there for the second one.
More importantly, he says that the original directors are currently on board:
[Lord and Miller] are attached to direct the movie, we're actively developing the script with them.  Right now, we got a first draft that we're pleased and the second draft is coming along.  We're supposed to start shooting in late September, early October.
Moritz also mentions a summer 2014 release window, and that while they'll have more money for action this time out, the goal isn't to attempt to approach the action-heavy status of a summer film like a Fast and the Furious installment. Rather, the focus will remain on character and comedy laced with action.