'The World's End' Release Moves One Month Earlier In The UK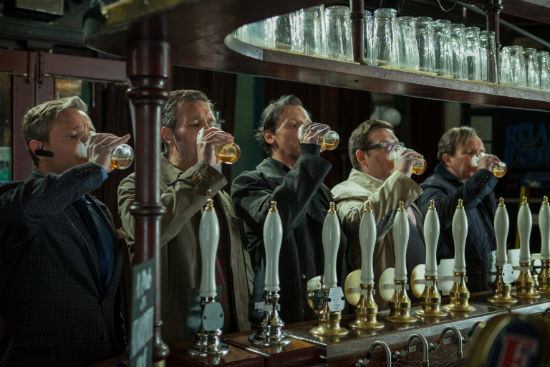 Oh, America. We felt so great when it was announced that Edgar Wright's latest film, The World's End, moved up from an October release date to August. That put it in the same month the United Kingdom was getting the film. The shift felt like an unnecessary but welcome victory in the ongoing Transatlantic release date "battle," as the UK has begun to get some of Hollywood's biggest blockbusters a few days, or even weeks early.
Well, that small victory has now been squelched as Wright announced via Twitter the third film in the Cornetto trilogy (starring Simon Pegg, Nick Frost, Paddy Considine, Martin Freeman, Eddie Marsan and Rosamund Pike) will be released a month earlier still, July 19, in the UK. Its US release date remains August 23. A trailer should be out in the next week or two.
Of note is the fact that the movie is a UK production, so it should open there first, and there really isn't a "Transatlantice release date battle." Probably 90% of movies open in the US first. This one just hurts because we're all so excited to see it. Here are Wright's tweets.
Prepare for barmageddon: 'The World's End' hits UK cinemas on JULY 19TH!

— edgarwright (@edgarwright) April 23, 2013
And yes, since the film is coming soon, the trailer is also very coming soon. With which film you say? Have a guess...

— edgarwright (@edgarwright) April 23, 2013
Director Edgar Wright and actors Simon Pegg and Nick Frost reunite for a third film following the successes "Shaun of the Dead" (2004) and "Hot Fuzz" (2007). In "The World's End," 20 years after attempting an epic pub crawl, five childhood friends reunite when one of them becomes hellbent on trying the drinking marathon again. They are convinced to stage an encore by Gary King (Simon Pegg), a 40-year-old man trapped at the cigarette end of his teens, who drags his reluctant pals to their hometown and once again attempts to reach the fabled pub – The World's End. As they attempt to reconcile the past and present, they realize the real struggle is for the future, not just theirs but humankind's. Reaching The World's End is the least of their worries.