Star Wars Bits: 'Star Wars: Uncut', Funny Or Die, Michael Giacchino, Billy Dee Williams, J.J. Abrams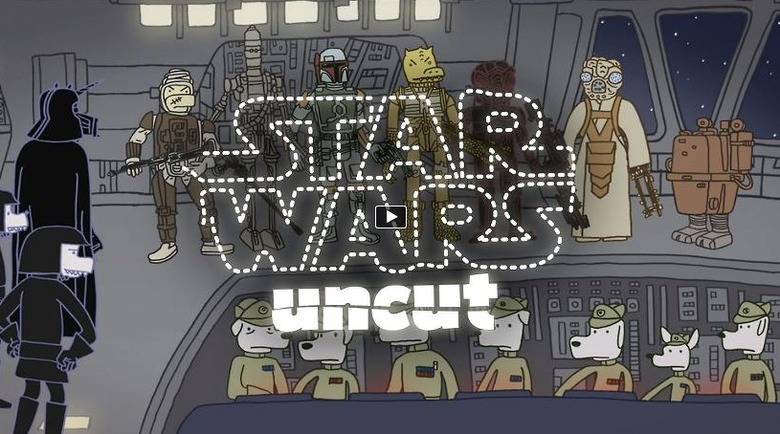 We have lots of Star Wars-related odds and ends for you after the jump, including:
J.J. Abrams says Star Wars and Star Trek are "very different"
Michael Arndt gets writer's block, just like the rest of us
Michael Giacchino wants John Williams to do Episode VII
Watch a teaser for the fan-made movie Star Wars: Uncut
Billy Dee Williams really, really, really wants to return
Another, possibly final, round of layoffs hits Lucasfilm
Darth Vader choking victim Richard LeParmentier has died
I feel very lucky to be involved with both of these stories. They are very very different so I am not worried about any kind of overlap.
Abrams recently admitted he could still direct Star Trek 3, though the fact that he'll be tied up with Episode VII until 2015 or so could make the scheduling pretty tricky. [via Trek Movie]
Wondering what the plot of Episode VII is going to be? So is Michael Arndt, according to this Funny or Die video.
Despite his long-running professional relationship with Abrams, Michael Giacchino seems unlikely to get asked to score Star Wars Episode VII when original composer John Williams has already made it clear he's interested. But Giacchino says he doesn't mind.
"One of the things that excites me most about 'Star Wars' coming back is chance to hear a John Williams score," he said. "If it were up to me I would say 'John, you must do it.'" [Yahoo UK via The Force]
Any self-respecting Star Wars fan has seen Episode V: The Empire Strikes Back several (or several hundred) times already, but you've never seen it like this. Star Wars: Uncut is a remake of sorts, stitched together from hundreds of fifteen-segment sections contributed by enthusiastic fans. The clips range from low-rent "sweded" scenes to trippy animated sequences to musical numbers. There's even a Moonrise Kingdom homage, because why not?
Watch the trailer below:
And see the full-length movie here:
[via io9]
Billy Dee Williams' campaign to get cast in Episode VII continues. The actor put out a call for help to fans on Facebook.
Everyone is still asking about the new Star Wars movie.... the best way to ensure that Billy Dee Williams will be in the new film is to FB, TWITTER, BLOG and tell Disney and Lucasfilm that you want to see LANDO again! Hopefully JJ will read the wishes and write in LANDO! UNTIL then.... here is all that is known: "I am in the dark with the actual plans that Disney and Lucasfilm have for the future of the "Star Wars" universe. I have heard the same rumors that the fans heard, that a new trilogy is being made, that spin-offs may be made, that we all [Mark, Carrie, Harrison and myself] are going to be reprising our roles in these projects. At this point in time, nothing has been confirmed about my participation and I have signed no contracts. I assure you that I would absolutely love to reprise my role of Lando Calrissian. He's a character that I took great pride in creating on screen and have continued to be a part of when providing his voice for video games, the new "Star Wars Detours" cartoon and for various episodes of "Robot Chicken", among other projects. It's a lot of fun to keep Lando alive and I am eager to do it again, on film, when I get the call. I thank all the fans out there for their continued support and I hope to get the call from Disney and Lucasfilm real soon, until then, may the force be with us all!" ~ Billy Dee Williams
[via Comic Book Movie]
Another round of layoffs has hit Lucasfilm, claiming over two dozen employees from the financing, licensing, and distribution divisions. The move comes after several weeks of shuffling and restructuring, including the shutdown of the entire LucasArts division.
If there's any good news to be found here, though, it's that the most recent wave of cuts is likely to be the last for now. Kathleen Kennedy assured employees in an email that all major changes would be made by the end of the month, and sources indicate that no further layoffs are expected. [Deadline]
Actor Richard LeParmentier died last week at the age of 66. He was best known for playing Admiral Motti in the original Star Wars, who insults Darth Vader and is strangled almost to death as a result. His other notable films included Who Framed Roger Rabbit, Octopussy, Rollerball, and Superman II. StarWars.com has a lovely tribute.