Animated 'Ratchet And Clank' Video Game Adaptation In Development For 2015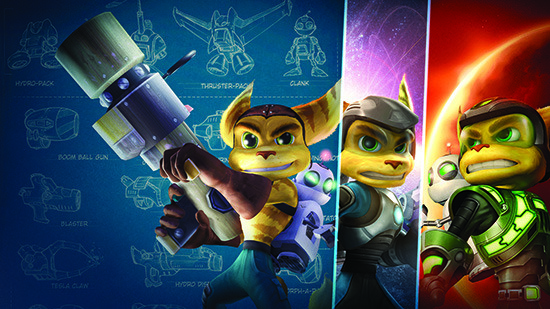 It's surprising that we haven't yet seen a Ratchet and Clank film from Sony. The game series launched in 2002 on the PlayStation 2, and has carried through two console generations and across multiple handheld systems as one of Sony's premiere first-party franchises. Cute, furry alien hero Ratchet and his helpful, wise-cracking sidekick Clank are featured in eleven primary titles and a set of remastered HD editions of the first few games in the series.
Those two characters, who tackle interstellar adventures in colorful environments and generally without excessive violence, seem tailor-made for success in media beyond video games. Now they're getting a movie, complete with some of the original video game voice talent. Check out a cute 'Duck Amuck'-inspired announcement trailer below.
Variety says that Rainmaker Entertainment (Escape from Planet Earth) is working with Blockade Entertainment to make a 3D CGI film based on Ratchet and Clank, with a broad target release date of 2015.Jericca Cleland (Animism director and cinematographer, Arthur Christmas and Space Chimps cinematographer) will direct. If seeing Space Chimps on a list doesn't inspire confidence, keep in mind that Cleland also worked at Pixar for a while, with work on Toy Story 2 and Finding Nemo.TJ Fixman scripted, which should be a good thing for fans as Fixman is also a senior writer at Insomniac Games, the studio which originally created the characters.
In addition, the primary voice actors from the game, James A. Taylor, David Kaye and Jim Ward, will voice their characters Ratchet, Clank and comic relief element Captain Qwark.
Here's the announcement trailer: