'Fast And Furious 6' Featurette Offers New Footage And Story Details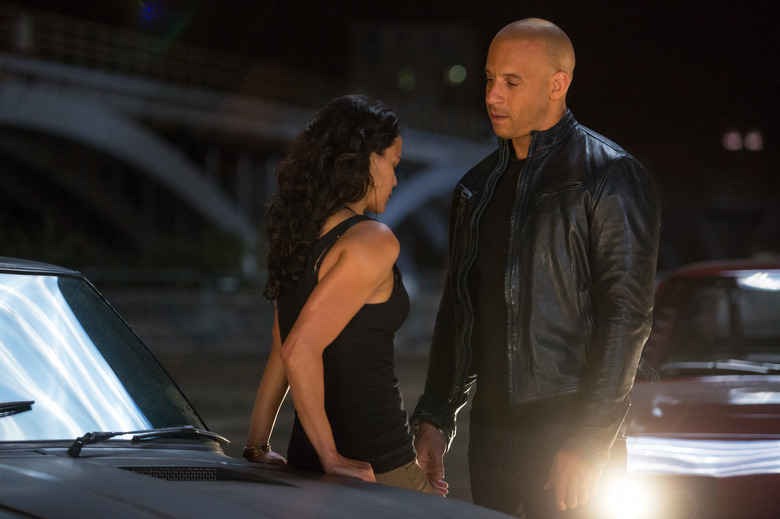 Even among this summer's crowded lineup of blockbuster sequels, Fast and Furious 6 manages to stand out as one of the most highly anticipated releases of early summer. The trailers and promos so far have been gloriously high-octane, highlighting the fancy automotive tricks that are the series' claim to fame.
The newest featurette highlights still more explosive new footage, but also reveals a bit more about the story and characters. Vin Diesel, Luke Evans, Michelle Rodriguez, and more discuss what's driving the players, and how they bounce off of each other. Watch it after the jump.
[via First Showing]
The Fast & Furious films aren't what anyone would call character-driven dramas, but they've been pretty consistent about building characters like Dom through the various installments. When Diesel says he's a family man at heart, it makes perfect sense. And that raises the stakes, which of course makes the big action set pieces even more exciting.
Dwayne Johnson, Paul Walker, Jordana Brewster, Gina Carano, Gal Gadot, Sung Kang, Tyrese Gibson, and Ludacris also star. Fast & Furious 6 opens May 24.
Since Dom (Diesel) and Brian's (Walker) Rio heist toppled a kingpin's empire and left their crew with $100 million, our heroes have scattered across the globe. But their inability to return home and living forever on the lam have left their lives incomplete.
Meanwhile, Hobbs (Johnson) has been tracking an organization of lethally skilled mercenary drivers across 12 countries, whose mastermind (Evans) is aided by a ruthless second-in-command revealed to be the love Dom thought was dead, Letty (Rodriguez). The only way to stop the criminal outfit is to outmatch them at street level, so Hobbs asks Dom to assemble his elite team in London. Payment? Full pardons for all of them so they can return home and make their families whole again.