'Futurama' Cancelled (Again)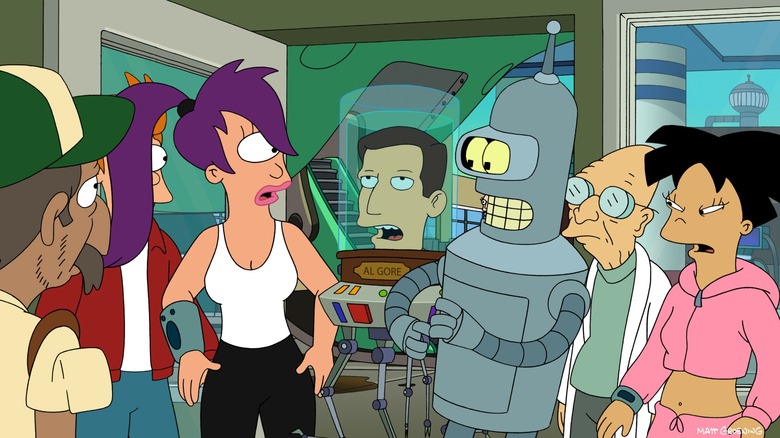 Bad news, everyone: Comedy Central has declined to renew Futurama, making the current seventh season its last. It's a disappointment fans should be familiar with. Futurama ended its originally run on Fox in 2004, but was brought back to life by Comedy Central in 2008. Its makers don't sound so shocked either. "I can't say I was devastated by the news," executive producer David X. Cohen said. Hit the jump to keep reading.
The 31st century animated comedy was created by Matt Groening in 1999, and ran on Fox for four seasons (72 episodes) until the network pulled the plug in 2004. However, the show proved popular enough in reruns on Comedy Central that the cable channel decided to revive the show for four direct-to-DVD movie sequels that hit in 2008 and 2009; the films were broken up into four episodes each and collectively comprised the show's fifth season. The network then ordered a sixth season consisting of 26 episodes, which aired in 2011 and 2012.
Cohen told EW that he'd become used to living with the threat of cancellation. "I felt like we were already in the bonus round on these last couple of seasons, so I can't say I was devastated by the news," he said. "It was what I had expected two years earlier. At this point I keep a suitcase by my office door so I can be cancelled at a moment's notice."
Groening expressed his disappointment at the cancellation but promised the next episodes would be the best yet. "The experience of this show has been so much fun from the very beginning to now — everybody is so happy to work on this show — that it'd be a shame if we all went our separate ways," he said. "We would love to continue. We have many more stories to tell. But if we don't, this is a really great way to go out... I think these episodes are the best ones we've ever done."
Calling Season 7 "our best 'last season ever' ever," Cohen teased that the next thirteen episodes would include "a bunch of episodes that I think are going to be classics." One episode features Fry being "reincarnated as various cartoons of your youth," while the finale — which I won't spoil here — will be "a tasteful, emotional gorefest." Guests like Larry Bird, Sarah Silverman, George Takei, Adam West, Dan Castellaneta, and Burt Ward will also be heard throughout the season.
"It's a really satisfying ending. It's an epic ending. If it's indeed the ending," Groening agreed. Having been through it twice already, in 2004 and then after the movies in 2009, the pair took their most recent cancellation in stride. "As I said three times before, this is definitely the absolute end of the show. I don't know why nobody believes me when I say that," Cohen said. As for the possibility of another revival — hey, it could happen. "Perhaps Futurama will return in another form, on the Internet, or as a puppet show in the park," Groening joked.