Hayley Atwell Suggests A Peggy Carter Short Film Could Screen At Comic-Con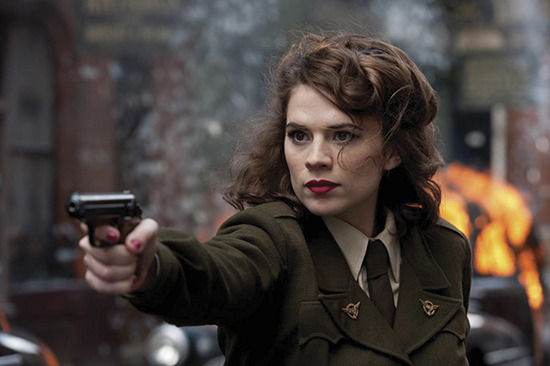 The second Captain America film, Captain America: The Winter Soldier, is currently in production. With that production announcement came the surprising reveal that Hayley Atwell would be returning. In the first film, Atwell played Peggy Carter, a kickass soldier and the love interest of Steve Rogers (Chris Evans), but after he was frozen for several decades that ship seemingly sailed for the superhero. How exactly she'll return in the modern-day sequel, whether it be as an older woman (as revealed in The Avengers deleted scene) or in some kind of flashback, has yet to be determined. The actress recently suggested she'll reprise the role even sooner than that.
In a new interview, Atwell said she filmed something as Peggy that might be shown at San Diego Comic-Con. Read her quote below.
Here's what Hayley Atwell said to The Age (via Superhero Hype) about the project.
There's been an online campaign for Peggy to be featured. People really liked her. So Marvel have made sure that as part of Comicon there will be a little kind of snapshot as to what Peggy's actually really capable of, which was finished here and which was great fun. Hopefully, it will lead to other things.
There are a ton of question marks in that statement. What exactly is a "snapshot?" Is she sure it's going to screen at Comic-Con? Could she have meant D23? And what exactly did she film? A quick short of her life after Rogers went missing? Their reunion? The possibilities are endless.
No matter what Atwell is talking about, where is screens or what it reveals, you can be sure you'll read about it here. Until then though, what do you think she meant?