John Harrison Borrows Zod's Tactics In Latest 'Star Trek Into Darkness' Viral Clip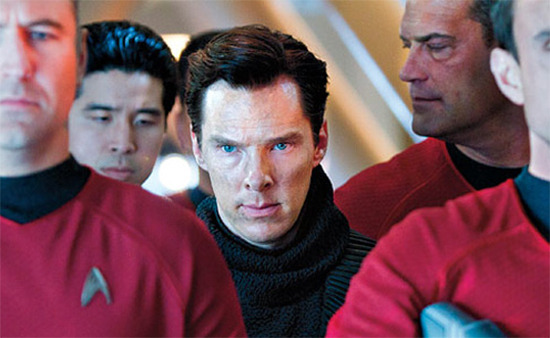 General Zod isn't the only one who can take to the airwaves to threaten the hero of a summer blockbuster. John Harrison is joining the club too. The villain of Star Trek Into Darkness, played by Benedict Cumberbatch, stars in a brand new clip where he calls out James Kirk (Chris Pine) for his cocky personality. He says he's going to help push Kirk to the edge, making sure he goes ahead and kills the entire crew of the Enterprise.
Take that plot hint, wrap it in a good, chilling Benedict Cumberbatch monologue, and you've got the clip below.
Thanks to Yahoo for this clip.
Combining this, the latest trailer, and what we've seen before, the plot of Star Trek Into Darkness is certainly coming into the light. What do you think?
J.J. Abrams' latest film opens May 17.
When the crew of the Enterprise is called back home, they find an unstoppable force of terror from within their own organization has detonated the fleet and everything it stands for, leaving our world in a state of crisis. With a personal score to settle, Captain Kirk leads a manhunt to a war-zone world to capture a one man weapon of mass destruction. As our heroes are propelled into an epic chess game of life and death, love will be challenged, friendships will be torn apart, and sacrifices must be made for the only family Kirk has left: his crew.