Cameron Diaz Reunites With 'Bad Teacher' Director And Star For 'Sex Tape'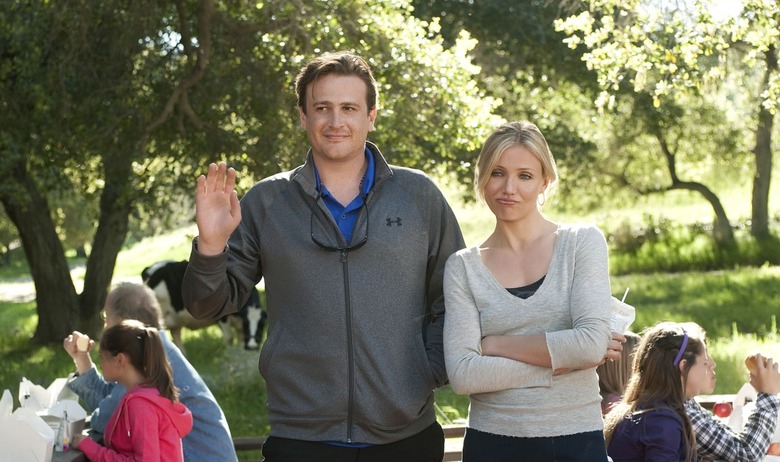 Bad Teacher turned out to be a big smash hit for Sony, grossing over ten times its modest $20 million box office budget. Those are the kind of numbers that usually give rise to a sequel — and while there aren't any plans right now to make one (or at least not yet), there is a reunion brewing for the trio at its center.Cameron Diaz has entered early talks to re-team with her Bad Teacher director Jake Kasdan and co-star Jason Segel for Sex Tape, which is also being distributed by Sony. Diaz, along with several other actresses, was rumored for the lead a while back but now she's inching closer to an actual deal. Hit the jump to keep reading.
The Black List script, by Kate Angelo, concerns a married couple who decide to spend a romantic night away from the kids. In an effort to spice things up in the bedroom, they make a sex tape. When they wake up the next morning the tape has disappeared, and a mad dash to recover it ensues. The raunchy comic material should make a good fit for the Bad Teacher trio.
Diaz wrapped Ridley Scott's The Counselor with Michael Fassbender and Brad Pitt not too long ago, and also has the Coen Bros.-scripted Gambit due out later this year. Next on her shooting schedule is Nick Cassevetes' The Other Woman, which also stars Nikolaj Coster-Waldau, Leslie Mann, and Kate Upton.
Bad Teacher, meanwhile, may yet live on on the small screen. CBS ordered a comedy pilot based on the same premise earlier this year, with Ari Graynor in the lead role.