Robert Downey Jr. Wants Ben Stiller For 'Pinocchio'?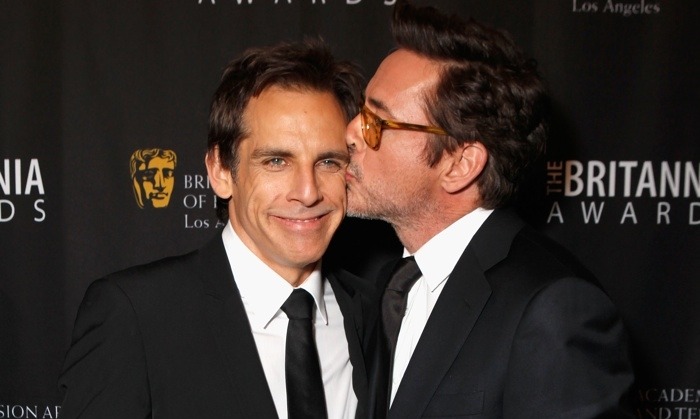 Tim Burton and Robert Downey Jr. have been linked to Warner Bros.' live-action Pinocchio since early last year — in fact, Downey pitched the movie to the studio — but during the fall the director admitted that he was starting to doubt the film would ever get made. Now it appears Pinocchio is, in fact, moving forward, and there's reason to think it will be without Burton.
Italian publications have quoted Downey as saying that he hopes Ben Stiller will direct the film. The pair previously worked together on 2008's Tropic Thunder. Hit the jump for more info.
Downey discussed his Pinocchio plans while promoting Iron Man 3 in Italy. "I would like to make it with Ben Stiller," Downey told Sky Italia. Stiller's involvement is very much theoretical at this point, but if Downey can make it happen he seems like a good pick. While Stiller's last few features have been straightforward comedies, the buzz out of CinemaCon for his latest, The Secret Life of Walter Mitty, suggest that he's up for the task of directing something a little more heartfelt.
There is also the chance that there has been some poor translation in the interview, and that Downey wants Stiller for the film as an actor, rather than director.
Written by Bryan Fuller and rewritten by Jane Goldman, Pinocchio will follow Gepetto's attempt to reunite with his missing marionette. Speaking with LaRepublicca, Downey expressed his desire to "honor the original intent" of Carlo Collodi's book while giving it a broader appeal by "amplifying the fantasy elements" and delving into the story's "complex mythology." He added that he hoped to shoot as much of the film as possible in Collodi's native Italy.
Downey also spoke about Pinocchio in his recent GQ profile:
My first pitch! I got real excited about it. I was just thinking about Geppetto as a cross between Jake LaMotta and Chico Marx. It's such a vital story, but it's really about this working-class weirdo who invests this inanimate object with all of the qualities he doesn't have. I'm just crazy about the idea.... To me a wooden boy is a real boy who doesn't feel like he's acknowledged.
Downey's is one of several Pinocchio projects that have recently been in development. Shawn Levy was attached to direct a prequel for Fox a couple years back, and Guillermo del Toro was developing a stop-motion adaptation before it got shut down earlier this year. Oddly, Sky Italia seems to believe Warner Bros.' and del Toro's projects are one and the same; as far as we know, though, they're two distinct projects. Though they are connected, in a way. According to Gris Grimly, who was set to direct del Toro's version, it was the poor box office performance of Burton's Frankenweenie that scared off investors.
[Thanks to /Film reader Colin for the tip!]