'The Lone Ranger' International Trailer: There's No Stopping This Train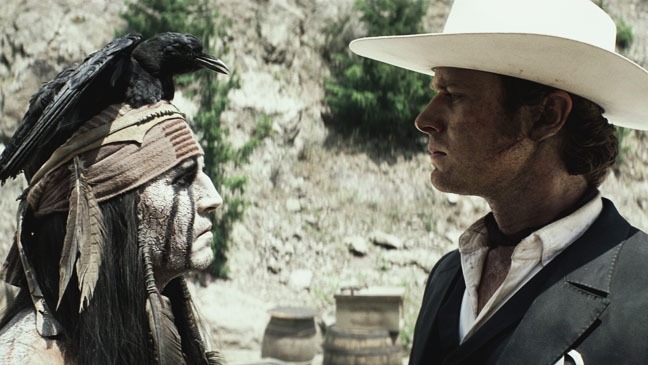 In conjunction with yesterday's new domestic trailer for Gore Verbinski's The Lone Ranger, a new international trailer has also hit the web. While this one gets into the plot a little bit — Tonto's (Johnny Depp) reaction to meeting the Lone Ranger (Armie Hammer) is a highlight — its focus is really on the action. The obviously expensive, hilariously absurd, and utterly awesome action. Hit the jump to check it out.
Despite the Ranger's bummer of a backstory, The Lone Ranger doesn't seem to be taking itself very seriously at all, and it looks all the better for that. The trailers have been crammed full of these big, explosive sequences that defy all laws of physics but will look freakin' awesome on the big screen. The odd-couple rapport between Depp and Hammer also helps to keep things light.
The comparisons to Pirates of the Caribbean have been frequent (and Disney itself is eager to draw that parallel), but based on the marketing so far they really do seem apt. That film was mindless entertainment in the best possible sense — a movie you don't have to think or feel too hard about, but that you just get to sit back and enjoy. With some luck, The Lone Ranger could hit that same summer movie sweet spot.
Helena Bonham Carter, Ruth Wilson, Tom Wilkinson, and William Fichtner also star. The Lone Ranger premieres July 3.
From producer Jerry Bruckheimer and director Gore Verbinski, the filmmaking team behind the blockbuster "Pirates of the Caribbean" franchise, comes Disney/Jerry Bruckheimer Films' "The Lone Ranger," a thrilling adventure infused with action and humor, in which the famed masked hero is brought to life through new eyes. Native American spirit warrior Tonto (Johnny Depp) recounts the untold tales that transformed John Reid (Armie Hammer), a man of the law, into a legend of justice–taking the audience on a runaway train of epic surprises and humorous friction as the two unlikely heroes must learn to work together and fight against greed and corruption.