'The Internship' Trailer #2: Google Crashers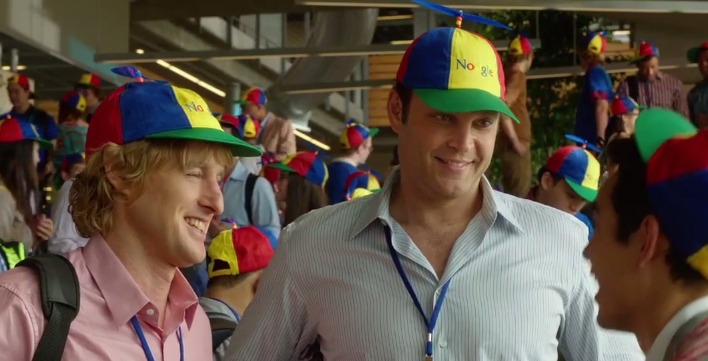 Owen Wilson and Vince Vaughn are old pros when it comes to crashing weddings, but weaseling their way into the youthful, tech-oriented culture at Google proves a different matter in The Internship.
The Shawn Levy-directed comedy stars the duo as slick salesmen who learn their jobs have become obsolete in the Internet age. In an attempt to bounce back, they land internships at Google, but find themselves totally out of their element as they compete against younger, brainier, more computer-savvy types. The second trailer has just landed, and you can see it after the jump.
In theory, an underdog tale set at the hallowed offices of Google sounds like a ton of fun. Doubly so when funny folks like Wilson and Vaughn are involved. But the jokes here feel off, somehow. Like, I've never been to Google HQ, but I suspect its employees know what fisting and high-fives are. It's as if the movie was written by Wilson and Vaughn's well-meaning but tragically out-of-touch characters, rather than by someone who actually understands tech culture.
And what do you know, it sort of was. Vaughn co-wrote the screenplay with Jared Stern, who also penned last year's The Watch. John Goodman, Josh Gad, Rose Byrne, Aasif Mandvi, Dylan O'Brien, and Max Minghella also star. The Internship lands in theaters June 7.
Billy (Vince Vaughn) and Nick (Owen Wilson) are salesmen whose careers have been torpedoed by the digital world. Trying to prove they are not obsolete, they defy the odds by talking their way into a coveted internship at Google, along with a battalion of brilliant college students. But, gaining entrance to this utopia is only half the battle. Now they must compete with a group of the nation's most elite, tech-savvy geniuses to prove that necessity really is the mother of re-invention.