LOL: Harrison Ford Won't Answer 'Star Wars' Questions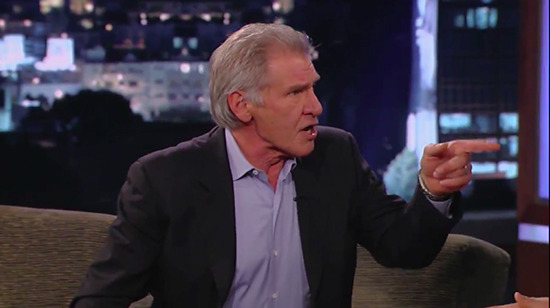 Harrison Ford isn't exactly known for letting his sense of humor shine through in interviews. And lately, where every interview is a minefield full of potential Star Wars questions, he seems perhaps more testy than usual. When Ford did a quick press appearance on Jimmy Kimmel's show last night, the host was pretty good about playing along with the actor's reluctance to talk about his possible return to the role of Han Solo.
But then Kimmel opened questions up to the audience, and things didn't go so well. The Q&A went downhill fast enough, in fact, that Ford managed to forget his general rule against engaging on the subject of Star Wars, and almost became Han Solo for a minute.
Here's Ford's appearance on last night's Jimmy Kimmel Live!.