'Byzantium' Trailer: Neil Jordan Interviews A Different Vampire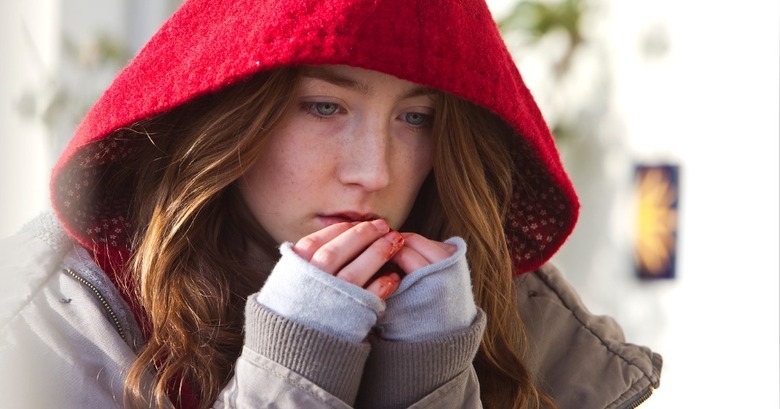 Nearly two decades after Interview With the Vampire, director Neil Jordan is heading back into bloodsucker territory with Byzantium. Based on the young adult play A Vampire Story by Moira Buffini, the film follows two 200-year-old "sisters" who arrive in a small coastal town.
The outgoing older one, Clara (Gemma Arterton) takes up with a sweet man named Noel (Daniel Mays) and turns his family's old guesthouse into a brothel, while the younger, more introspective Eleanor (Saoirse Ronan) meets and falls for the sickly Frank (Caleb Landry Jones). But whatever peace they find is threatened when their secrets and misdeeds catch up with them. Hit the jump to watch the new trailer.
It's a striking trailer, full of rich, sensual colors, and Ronan looks especially intriguing as eternal teenager Clara. The film itself, however, has received somewhat mixed reviews on the festival circuit since its TIFF debut last year. Judge it for yourself when it lands in theaters June 28.
Seventeen years after Neil Jordan first dipped into the vampire genre with Interview With the Vampire, his Byzantium proves that he has lost none of his taste for the bloody and Gothic. Drenched in a rich, suitably gloomy atmosphere, Jordan brings a crystalline vision to bear on this story of two female vampires who wreak havoc on an unsuspecting English seaside community, as the film fluctuates between gory mayhem and melancholic reflection.
Eleanor (Saoirse Ronan) is a precocious girl with a bent for storytelling. A natural introvert, her idea of a good time is to put pen to paper and reflect on her inner life. Her "sister" Clara (Gemma Arterton) is the complete opposite: extroverted and sexual, she struts around in stilettos and skin-tight garb, attracting hungry male gazes wherever she goes. Both carry secrets from deep in their shared past — all 200 years of it — which bubbles to the surface as Jordan wends his way through the twists and turns of the plot. It turns out that Clara was involved in a passionate love affair during the Napoleonic Wars, while at the same time Eleanor was abandoned as a child. In the present, both seek to preserve their secret from their unsuspecting new companions. Eleanor falls for a sweet young waiter (Caleb Landry Jones), while Clara settles on a homey, unsuspecting man (Daniel Mays) who has just come into an inheritance: the Byzantium Hotel, which has seen better days. The fun begins as Eleanor and Clara shack up in the hotel, feeding off their victims while attempting to stay one step ahead of their pursuers, who are hot on the duo's trail after Clara rather violently disposes of a particularly seedy pickup.