TV Trailer: Michael Bay's Pirate Drama 'Black Sails'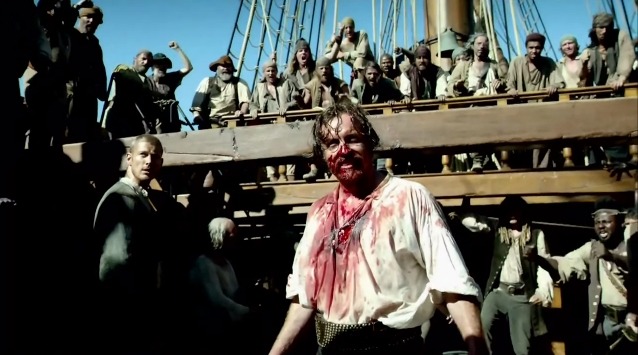 The trailers for The Lone Ranger have drawn more than a few comparisons to Gore Verbinski and Johnny Depp's last team-up, Pirates of the Caribbean. But Tonto's untamed West is a world away from Captain Jack Sparrow's high seas, and if waterlogged adventure is more your speed Starz has just the thing for you.
Executive produced by Michael Bay, Black Sails follows the fearsome pirate captain Flint (Toby Stephens), his new crew member John Silver (Luke Arnold), and the rest of their as they go up against the British Royal Navy. Neil Marshall, who directed the climactic Game of Thrones Season 2 episode "Blackwater," helmed the pilot. Watch the first trailer after the jump.
It definitely looks exciting, promising all the bloody violence and steamy sex you could possibly want from a Bay-produced Starz series. The show will also have to offer up interesting characters and compelling storylines if it wants people to keep watching, but the fun trailer has our curiosity piqued for now.
The historical (not necessarily historically accurate, but historical) drama fits right in with the rest of Starz' lineup. Aside from the Roman epic Spartacus, which came to a close last week, the premium cable channel's original offerings include the Renaissance-era adventure Da Vinci's Demons and the late '50s drama Magic City. Later this year, they'll launch the new series The White Queen, set in 15th century England. Black Sails has yet to announce a premiere date, but it's expected to wash up on our shores sometime in 2014.
The eight-episode first season of the pirate adventure centers on the tales of Captain Flint and his men, and takes place twenty years prior to Robert Louis Stevenson's classic "Treasure Island." Toby Stephens (Die Another Day) stars as Flint, the most brilliant and most feared pirate captain of his day, takes on a fast-talking young addition to his crew who goes by the name John Silver.  Threatened with extinction on all sides, they fight for the survival of New Providence Island, the most notorious criminal haven of its day – a debauched paradise teeming with pirates, prostitutes, thieves and fortune seekers, a place defined by both its enlightened ideals and its stunning brutality.