Video Reaction: Warner Bros Premieres 'Gravity' And 'Man Of Steel' Trailers At CinemaCon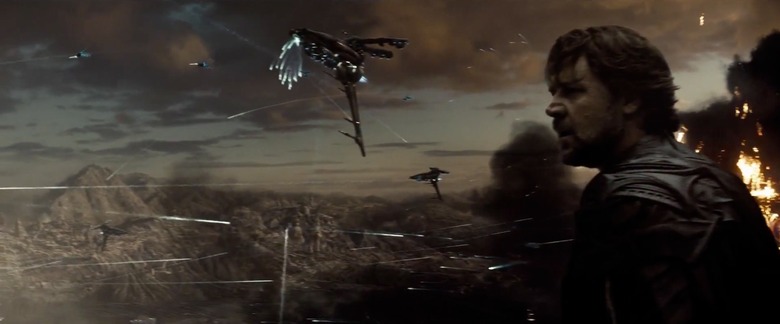 Okay, so I know you've already seen the trailer for Zack Snyder's Man of Steel. Snyder was in Las Vegas at CinemaCon to premiere the trailer, which was exactly timed with when the video went online.
The Warner Bros presentation this year was kind of underwhelming, it may have something to do with all the bad buzz they got last year with their preview of early 48fps Hobbit footage. Whatever the reason, they kept most of their presentation safe, sticking mostly to trailers or previously cut footage (for instance the Pacific Rim reel already played at WonderCon). The Man of Steel trailer was very impressive, and they also screened the first trailer (or was it a teaser trailer?) for Alfanso Cuaron's Gravity, which was breathtaking. I'm not sure when Warner Bros will be officially releasing this trailer, maybe on Oblivion?
We recorded a video blog giving quick reactions to both of these trailer, and failed in our attempt to discuss them in less time than the source trailers themselves. Watch the video now embedded after the jump.