Sundance Favorite 'A.C.O.D.' Gets Distribution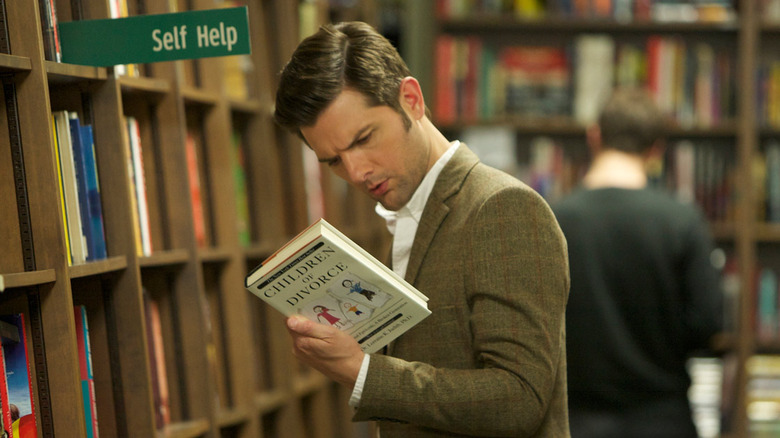 This year's Sundance Film Festival was full of great films, but the one that stood above the rest for me was Stuart Zicherman's A.C.O.D. The film stars Adam Scott as an adult child of divorce, who weaves his way through life between parents who hate each other (Richard Jenkins and Catherine O'Hara). It co-stars Amy Poehler, Mary Elizabeth Winstead, Jessica Alba, Clark Duke, Jane Lynch and is as funny and poignant as you can possibly image.
Four months after its premiere in Park City, the film has finally been picked up for distribution. The Film Arcade will release A.C.O.D. in North America and Paramount Home Media Distribution will handle international bookings, and the home market and digital distribution.
Click here to read our rave review of the film, and read more about the deal below.Deadline broke the news of the the deal. Here's the press release.
The Film Arcade and Paramount Home Media Distribution announced today the acquisition of the breakout Sundance comedy A.C.O.D. The Film Arcade will release the film theatrically throughout North America and Paramount Home Media Distribution will manage domestic home entertainment, television licensing and digital distribution, as well as all international distribution.
A.C.O.D., which comedically explores the world of Adult Children of Divorce, marks the directorial debut of Stuart Zicherman (creator of J.J. Abrams/ABC's "Six Degrees"), who co-wrote the script with Ben Karlin, a producer and writer on "Modern Family" and previously on "The Daily Show with Jon Stewart". The film features an all-star cast of comedic talent including Adam Scott ("Parks and Recreation", Friends with Kids), Richard Jenkins (Step Brothers), Catherine O'Hara (For Your Consideration), Amy Poehler ("Parks and Recreation"), Jessica Alba (Fantastic Four), Jane Lynch ("Glee"), Clark Duke ("The Office") and Mary Elizabeth Winstead (Scott Pilgrim vs the World). Teddy Schwarzman's Black Bear Pictures (Broken City, upcoming At Any Price) fully financed A.C.O.D. and Schwarzman produced the film alongside Karlin and Tim Perell.
A.C.O.D. follows Carter (Scott), a seemingly well-adjusted Adult Child of Divorce. Having survived the madness of his parents' (Jenkins and O'Hara) divorce, Carter now has a successful career and supportive girlfriend (Winstead). But when his younger brother (Duke) gets engaged, Carter is forced to reunite his bitterly divorced parents for the wedding, causing the chaos of his childhood to return.
"A.C.O.D. is one of the funniest Sundance films we've seen and the audience at its premiere laughed the whole way through", said The Film Arcade partners. "Stu and his incredible cast have shown us that divorce hurts until you laugh. We look forward to bringing this entertaining film to audiences and adding 'A.C.O.D.' to the pop-culture lexicon."
"We are thrilled that The Film Arcade and Paramount are distributing A.C.O.D." said Schwarzman. "We look forward to working closely with both companies, and are so excited for audiences worldwide to see this memorable comedy."
Again, here's my review of the film as well as a video blog. A.C.O.D. is a fantastic film, definitely seek it out.